History professor awarded for raising genocidal awareness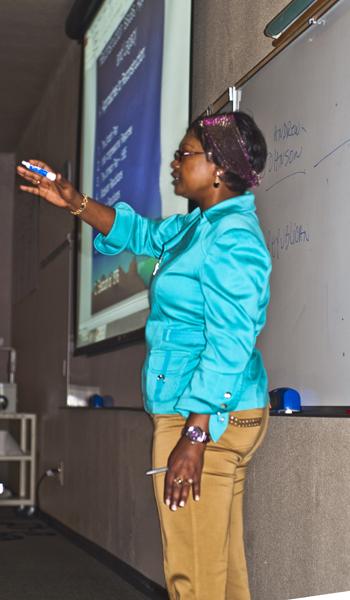 Hang on for a minute...we're trying to find some more stories you might like.
Cosumnes River College awarded the Crystal Apple Award to history professor Mathilde Mukantabana at its annual Spring Convocation on Jan. 13.
The award, given to professors who display exemplary service in teaching, is bestowed annually by CRC faculty. In the process of earning the award, Mukantabana was also nominated for the Hayward Award, which is given by the California Community College State Academic Senate, said CRC Academic State President Charles Braden.
"Professor Mukantabana is not only an amazing instructor, but a great person," said CRC Public Information Officer Kristie West. "Her work with the Rwandan community and her efforts to raise awareness about genocide is to be commended."
Mukantabana lost many of her friends and family to genocidal killings in Rwanda at an early age. The experience has shaped her life, and she believes that "each individual has a responsibility of trying to mend that society."
"If there's such a capacity for violence and by so many people, what does this say about our humanity? I really don't know," Mukantabana said. "I don't want to believe that I could ever entertain the thought of killing fellow human beings, but killers in Rwanda and anywhere else are not always monsters."
Mukantabana founded the Friends of Rwanda Association in 1995. Her purpose was to provide relief to those affected by genocide in the form of infrastructure and basic education.
"It gives a purpose to life to people there," Mukantabana said. "It's given hope to people who thought they were completely gone."
Yet Mukantabana realized she was also confronting a "mountain-wave of negationism." In 1999, she added teaching and organizing international conferences about genocidal awareness to her program's list of goals.
"You could either really recoil and die and not say anything or try to address what has happened," Mukantabana said. "And that was part of the healing process."
Since 1999, Mukantabana has helped organize four major conferences in various universities and countries, including Rwanda and Argentina. Scholars around the world attend and discuss the various aspects of genocides and holocausts, including the economic and social impact.
"We believe if we can go within the academia and teach about genocide then it will be the first step to fight against it," Mukantabana said.
Mukantabana has also spoken at many major universities, including Brown University and University of Southern California. She believes that students are an extension of her and that "if they are willing to work, they are willing to engage, then they can do well."
"We are all here for the same thing," Mukantabana said. "As human beings, we want peace, we want happiness. We want to improve our lives wherever we are."
Mukantabana said that winning the Crystal Apple Award was "humbling" and is thankful for the amount of support behind the award.
"It is the realization that I am not alone in understanding the serious nature of this issue," Mukantabana said. "I am happy that my colleagues at CRC are as concerned and are supportive of my efforts in many different ways."
Lisa Abraham, an English professor, traveled with Mukantabana to Rwanda last summer and said that the trip "deepened my understanding of both her experiences as an individual and her philosophies."
"I can't think of anyone who exemplifies more than Mathilde the idea of making the connection between the intellectual academic exercises that we practice on a college campus and creating real change in the world outside," Abraham said.
.