Freshman seminar promotes college success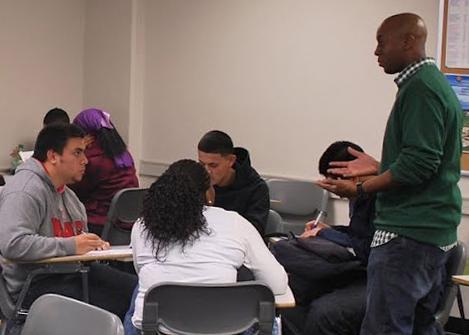 The bright, low-ceilinged classroom buzzes with discussion. Small groups of students huddle together around long paper lists hanging on the walls. In one corner, members of another group eagerly suggest words such as money, social life and family, while one member writes. A casually but well-dressed professor moves from group to group, giving encouragement and joking with students.
The students are doing a brainstorming activity in Freshman seminar, a class designed to help first-time college students succeed. The class introduces students to support systems such as tutoring and financial aid, teaches skills such as time and money management and integrates students into Cosumnes River College by introducing them to faculty, staff and other students.
The freshman seminar recently earned the 2011 Exemplary Programs award from the California Community Colleges Board of Governors. The award recognizes community colleges that "engage [students] and help them stay on course and reach their academic goals," according to a press release from the California Community Colleges Chancellor's Office.
The kudos for Freshman Seminar goes beyond the award. Only three weeks into the 12-week class, students have plenty of praise.
"Anybody who plans on coming to community college should take this class," said Chris Woodard, an 18-year-old communications major. "I've learned the importance of community college."
The class also helps students after community college.
"I know exactly what I need to get in and get out," said Teonna Brown, a 24-year-old criminal justice major. "It'll be really helpful in the long run to me because I'll be prepared."
Brown isn't the only one benefiting from Freshman Seminar.
According to the Chancellor's Office press release, "students who complete the seminar enrolled in more units, achieve higher or comparable GPA, and remain enrolled at higher rates than new students who did not take the seminar."
"We are giving students the toolkit to avoid obstacles that typically come up while trying to earn a degree," said Dr. BJ Snowden, a professor of radio and digital media, who teaches one of the Freshman Seminar classes. "There's always a light bulb going off."
As the class comes close to an end, the groups break from their huddles to face the whole class. From each group, one member shares something their group sees as an obstacle to college success. The class is relaxed and the students speak openly. They interject their experiences into the discussion, talking about how they overcame their own obstacles.
"It's not just about memorizing dates and facts but it's about literally learning and becoming a master of your own pathway through college," Snowden said.
Three Freshman Seminar classes are offered this semester. Frances Degn teaches the class with a special emphasis on careers in liberal arts on Tuesdays and Thursdays from 2:15-4:20 p.m. in P 120. Robert Snowden teaches the class with a special emphasis on careers in communications, visual and performing arts on Tuesdays and Thursdays at 1-3:05 p.m. in CAC 140. Sherri Carinci teaches the class with a special emphasis on careers in liberal arts on Mondays and Wednesdays at 10:30 a.m to 12:35 p.m.
Leave a Comment