Outsourcing meets public education in possible senate bill
California Community College students are no strangers to new propositions and bills aimed at budgetary issues faced by the public schools and state overall, but a recently proposed senate bill might not be what most expect.
Senate Bill 520, authored by Darrell Steinberg (D-Sacramento), is a measure to increase access to California college and university classes, helping hundreds of thousands of students avoid delays in completing their degree courses, according to a press release from Steinberg's office on March 13 .
"The California Master Plan for Higher Education promised open access to all, yet thousands of students are struggling to complete their degrees and going deeper in college debt because there simply aren't enough classroom seats available in the courses they need," Steinberg said in the press release.
28-year-old animal science major Issac Vargas thought it could be a good idea if the bill was passed, but that there could be issues if the courses did not match up between campuses.
"I mean I guess it sounds cool," Vargas said. "I mean as long as you're getting some education, it counts as something. Better than not doing anything at all."
Rhys Williams, Senator Steinberg's spokesman, said that the supply of classes is a main concern.
"Obviously when we're talking about the practical effects that Senator Steinberg is concerned about it's with the supply not meeting demand on students being able to get into classrooms," Williams said. "Students are not graduating on time and their building up tens of thousands of dollars in debt unnecessarily simply because of an access issue."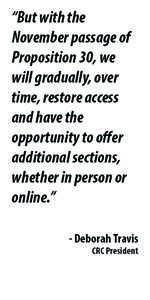 With 85 percent of community colleges reporting waits lists, Williams said that it equates to 7,000 students per community college on a wait list.
Critics of the bill, such as T. Guy Masters and Kit Pogliano of the University of California San Diego Academic Senate who wrote an open letter to the Academic Senates of the colleges and universities of California about the bill, said that it raises concerns about the privatization of public state higher education through allowing online courses from for profit unaccredited schools.
Masters and Pogliano also stated in their open letter that limits on student access to the courses the bill targets are in large part the result of significant reductions in public state higher education funding, especially over the last six years.
Unaccredited classes are not what the bill is designed for and the measure would be faculty driven as no classes would be accepted without faculty and academic senate acceptance, Williams said.
Williams said that they are seeking to assess, develop and teach accredited classes to meet a state standard.
Not all see a need for the bill after recent developments of the 2012 election cycle when Californians voted for Proposition 30 which raises taxes on the wealthiest of taxpayers to fund state colleges.
"It's true that we have had to reduce offerings the past few years due to lack of funding and many of our students have had trouble getting into general education courses," said Cosumnes River College President Deborah Travis via email. "But with the November passage of Proposition 30, we will gradually, over time, restore access and have the opportunity to offer additional sections, whether in person or online."
Travis said that Steinberg's bill is getting a lot of attention from the education community and that there is much discussion about what it would mean for higher education but until the details of the bill become clear it is difficult to say how it could impact CRC.
"We need to tear down these barriers. We want to lead the nation in melding technology with our great institutions of higher learning," Steinberg said in the press release. "No college student in California should be denied the right to move through their education because they couldn't get a seat for the course they needed."