Student choice and graduates' income is focus of website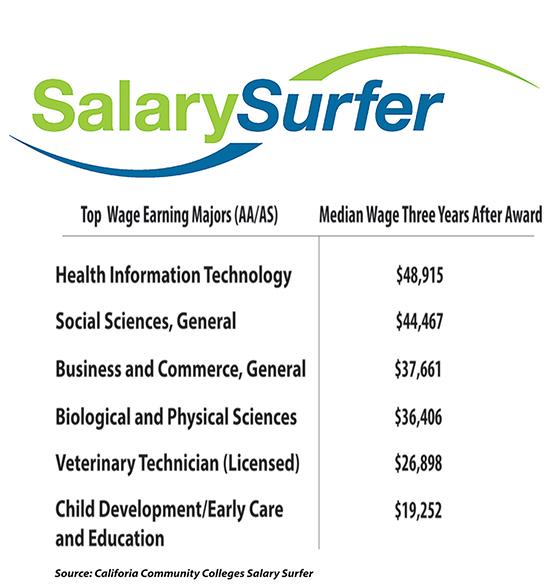 When choosing a career path, it's not always possible for students to predict the possible earned salary or which career will provide the largest salary in the future, but a new tool is now available to do just that: Salary Surfer.
The California Community Colleges Chancellor's Office has created an easily accessible website called Salary Surfer that allows students to look up the earnings of recent graduates who obtained degrees or certificates in certain programs at community colleges in California.
"It's a snapshot of information that can help students make an informed decision about a career," said Los Rios Community College Chancellor Brian King. "It doesn't answer all the questions, and it doesn't guarantee what the income would be, but it's very helpful for students to have a good idea about what potential earnings are for various careers."
Salary Surfer uses a system that tracks the student records of graduates from the Chancellor's Office Management Information System and collaborates those records with the California Employment Development and Unemployment Insurance wages, according to the website.
The easily navigated website displays a drop-down menu where you can select the program of your choosing to evaluate. Then, there is a chart for each program with data for either a degree or certificate ranging from two years before, two years after, and five years after receiving an award for each specific curriculum.
While the tool is a good place to start when looking for careers, CRC President Deborah Travis said that salary should not be the only factor students look at.
"It's important to research other factors and make better informed, more intelligent decisions about your educational and professional futures," Travis said via email. "It's always a good idea for students to meet with a counselor when deciding their educational goals."
King said that counselors are already sharing some of the Salary Surfer data in appointments with students who are appreciative to have more information about choosing what they want to study.
Shafa Ilyas, an 18-year-old biology major, agreed that the tool would be helpful for students
"I think it's good that administration is trying to help students by creating tools like Salary Surfer," Ilyas said. "That way students know what to expect when it comes to their future."
Ashley Gallenstein, a 19-year-old animal science major, said that the tool would personally not be helpful to her.
"I have already done plenty of my own research for my planned career," Gallenstein said. "My high school also gave me a tool similar to that, which I still use today."
Vice President of Instruction and Student Learning Whitney Yamamura said that in his experience with Salary Surfer, he has noticed that a career in sonography, "makes quite a lot of money and is pretty intensive." Sonography is a diagnostic medical procedure that uses high frequency sound waves to produce visual images of organs, tissues, or blood flow inside the body.
Associate Degrees with the highest median income five years after award include such disciplines as Electrical and Power Systems Transmission ($96,200), Physician Assistant ($95,700) and Radiation Therapy Technician ($91,300), according to the Salary Surfer website.
Analysis also showed that certificates with the highest median income five years after completing include Electrical and Power Systems Transmission ($123,200), Physician Assistant ($92,700) and Fire Academy ($87,100).
King said that the accuracy of the data collected is a fair representation of the possible incomes in the future.
"It's not possible to collect data on every single student or graduate so it's not totally perfect," King said. "But there are enough different students included in the surfer that it should be a fair snapshot of earning capacity historically."
King elaborated on the benefits of the surfer outside of career salaries.
"It's just another step in the benefits of technology and we're learning more and more of how to share data in a way that's helpful and not confusing," King said.
While the benefits of technology and the program are important, Yamamura said that there is another focus that is even more important.
"The primary intent is to support and provide students with choices," Yamamura said. "The way that it is used as a tool is the most important thing about it."
The Salary Surfer program, and more information on the program and the wages of all the different majors can be found at www. http://salarysurfer.cccco.edu/.
Leave a Comment