New technology offers students a different way to communicate
In a time when we've all come to expect constant connection with friends, family and everyone around us, being disconnected due to poor Wi-Fi or phone service can be frustrating.
A new technology called mesh networking is looking to solve this problem.
"What mesh networking is, is the ability for devices to connect with one another without going through an internet connection as we know it," said Christophe Daligault of Open Garden, a developer working with the mesh networking technology. "In traditional networks, you have your mobile device connect to the internet through an internet service provider, so either a cable, cellular or phone company. In this case the devices connect with one another."
Mesh networking is a growing technology and is mainly being used in social applications, such as FireChat developed by Open Garden. Devices can connect through the Wi-Fi radio or Bluetooth radio most phones have installed. So far, mesh networking applications only utilize group chat and don't allow for one-to-one messaging, which is due to the nature of mesh networking.
"Point-to-point communication is about thirty feet. That's not much, however, the beauty of mesh networking is that it multi-hops," Daligault said. "For example, you and I are fifty feet away from one another and the devices don't recognize each other, but a third person who also uses FireChat can slide in the middle. At that point the messages can hop through the third person with the device in the middle to reach you, and vice versa."
Mesh networking benefits from areas with dense populations, like a college campus, or with places with poor connectivity, such as the music festival Coachella, Daligault said.
Students at Cosumnes River College, such as 22-year-old communications major Mikaela Alvarado, said they felt unsure about mesh networking.
"If I wanted to have a regular conversation with one of my friends I wouldn't want to have it with everyone else that's around me," Alvarado said.
Alvarado did say there seemed to be some advantages to the technology.
"Sometimes it's hard for me to get a Wi-Fi connection here, on the campus, and it would be nice to be able to send text messages and stuff like that without having to use my data from my plan," Alvarado said.
Mesh networking has other uses besides messaging. University California, Davis uses the technology for the Quail Ridge Wireless Mesh Network, which is a set of sensors in Napa County, Calif. used to track environmental data, according to the QuRiNet website.
Prasant Mohapatra, professor of computer science at UC Davis, said that mesh networking "will stay focused on niche applications" and sees no reason why companies would make a one-to-one messaging app.
"[Mesh networking] is capable of supporting one-on-one chat, but that will neither add much value or lower any cost," Mohapatra said.
Although, many CRC students, like 20-year-old anthropology major Ashley Baeza, said they would use a mesh networking app that allowed for private messaging.
"If it was more private then I don't see why [I wouldn't use it]," Baeza said. "I wouldn't want to be sending out information that everybody can see."
FireChat was created to show what mesh networking could do, Daligault said.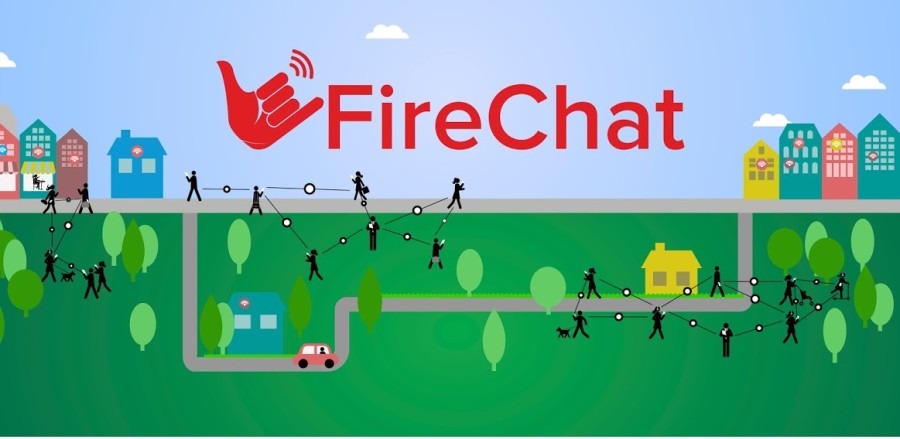 "It worked way beyond our expectations," Daligault said. "We don't think we can compete with WhatsApp and others, however, we will provide this mesh networking technology to them so that they can enable those off-the-grid scenarios."
Daligault said he feels mesh networking will evolve to several hundred feet in a few years.
"There's something called LTE Direct that's coming. Qualcomm is working very hard to bring this to market. One or two generations of mobile devices, maybe a year or a year and a half later, the range will increase," Daligault said.
Telecommunications companies see the value in working along side mesh networking because it will help fulfill the growing demand for data from cellular providers, Daligault said.
Brianna Perea, 20, a veterinary technician said she sees it as a way to mitigate a large cellular bill.
"I don't have issues that hinder me from texting, but if I didn't have unlimited texting that would be very helpful," Perea said.
Daligault and Open Garden are waiting to see what users do with mesh networking.
FireChat serves as a proof of concept for mesh networking technology said Daligault.
"The first step was to say 'this is what mesh networking is, here's an example, this is FireChat now you can chat even if you don't have an internet connection,'" Daligault said. "The second step is to take that message to communities, and colleges are a good example, and showcase what people are doing with it within their own communities."
Leave a Comment