Ban on plastic grocery bags likely spreading statewide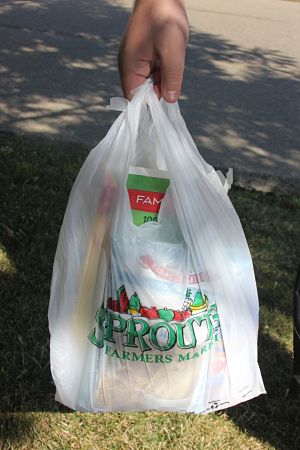 California is officially the first state to pass a ban on single-use plastic bags in grocery stores, pharmacies, liquor stores and other local businesses and charge for reusable alternatives.

The plastic bag ban, Senate Bill 270, that passed state lawmakers in a 22-15 vote, was made to help clean the environment and the California coastline

The bill was proposed to help sustain and create green jobs, according to the California Against Waste Organization.

Gov. Jerry Brown signed the bill into effect on Sept. 29.

"This bill is a step in the right direction – it reduces the torrent of plastic polluting our beaches, parks and even the vast ocean itself," said Brown in a press release. "We're the first to ban these bags, and we won't be the last."

Commonly used plastic bags will be banned in California beginning July 1, 2015 for major pharmacies and grocery stores.

The law will go into effect later that year for convenience stores.

According to CAW, "this issue has been a top priority for the environmental community, and the bill is supported by a diverse group of stakeholders, including grocers, retailers, food workers, waste haulers, local governments, and several in-state bag companies."

At Cosumnes River College, faculty and students have varying opinions on the ban.

"A lot of bags end up in the ocean" said geography Professor Debra Sharkey. "Over time we will see less of them in water ways and fields, unless we clean them, they take forever to break down."

Some students on campus seemed conflicted about the ban.

"There would be less plastic bags and more reusable bags," said Kayla Rudy, 18, a liberal studies major. "I have other things to pay for, I have many expenses as a college student."

The plastic bag ban will require consumers to purchase a bag from their preferred vendors for a minimum of 10 cents if they do not have their own.

The definite price of the disposable bags would depend on the store.

"

A lot of bags end up in the ocean. Over time we will see less of them in water ways and fields, unless we clean them, they take forever to break down.

— geography Professor Debra Sharkey

"The money charged for plastic bags would be kept by the stores and put towards their own specific needs.

"The bags should be free,"said Chris Kennon, a 22-year-old automotive major. "It's taking away money I could use for books."

The bill is set to give $2 million to plastic bag companies in California to help them transition into producing reusable bags.

Many major cities in California, such as San Francisco, Chico and San Jose have already restricted plastic bag use.

While some students voiced concerns about the bill others hinted at it becoming a way of living.

Angelica Aroche, 18, a diagnostic medical sonography major, didn't think that 10 cents was much because stores have been charging for bags  over the last two years.

"I already bring my own bags, or I just don't take a bag," Sharkey said.

Even though there was a lot of support for the bill, many Republicans opposed it calling the bill unnecessary in its involvement in local business and saying it would affect jobs negatively, according to Time Magazine.

"It's about raising awareness of our impact on the environment," Sharkey said.

"The ban is not telling those to not use them, if you have them reuse them," Sharkey said.

Assembly Speaker Toni Atkins said tha the ban would help our economy as well as enviornment in a press release.

"Removing the harmful blight of single-use plastic bags, especially along our coastline and waterways, helps ensure the kind of clean and healthy environment we need to have a stronger economy and a brighter future,"Atkins said.
Leave a Comment