Nutrition professors hope to inspire students to lead a healthier lifestyle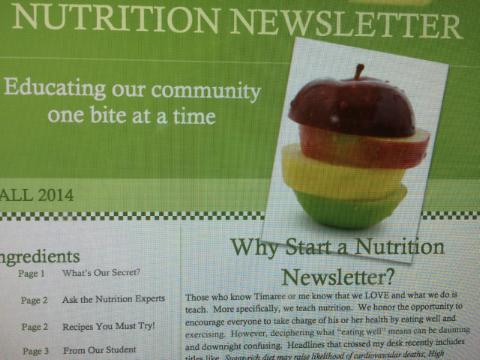 The average college student's life tends to revolve around lots of reading, studying, preparing for midterms and exams and trying to soak up as much information as possible in order to successfully pass a class.
With trying to manage heavy workloads at school, not even including the students who juggle actual jobs outside of classes, the idea of maintaining a nutritious diet may not be on top of every student's list of priorities.
At Cosumnes River College, nutrition and foods allied health Professors Timaree Hagenburger and Dana Wassmer have made it their mission to provide the campus with a nutrition newsletter, offering students and faculty access to a variety of valuable information like tips, recipes, recommendations, Q&A's and also features from a student's perspective.
"We've always had it in our minds of doing a community outreach to the campus here, to students, faculty and staff," Wassmer said. "Timing wise, it was perfect to expand our outreach and to provide nutrition education."
The nutrition newsletter, which can be accessed online through the campus web page, is the first of many. The plan is to release a new issue every fall and spring semester, according to the newsletter.
"This is just another way for us to get students to pause before they make a decision about something that can impact their health," Hagenburger said. "This is just another stream of information that we can stand behind because it's solid, evidence-based research."
Hagenburger also sees this newsletter as a way to reach past and future nutrition students.
"To help students who finish our classes stay connected to us, that's one of the commitments that we really want to try to make," Hagenburger said. "That's important for us, to be able to share that with the other departments. This was an opportunity to get useful information, student stories and also bring interests into the field of nutrition."
Student perspectives and feedback is highly welcomed and appreciated, as each issue will feature various articles and stories from CRC's very own student body.
"It's great that CRC is putting out this newsletter," said Emily Staab, 21, a nutrition major. "People need to know how different foods affect the body and how important it is to get all of those essential nutrients."
Staab said that this is a great platform to reach those who wish to better their overall eating habits.
College students, short on time with their busy schedules, can also look to the nutrition newsletter for some healthy, delicious and quick do-it-yourself recipes.
"I was never really a fan of kale before, but I recently tried the thin crust kale pizza recipe mentioned in the newsletter and it was really good," said Ramona Padilla, 21, an undeclared major.
Hagenburger and Wassmer have already received an outpour of positive feedback from both students and faculty and anticipate that the optimistic reactions will continue coming.
"Our goal here is outreach and connection," Wassmer said.