SHAREfair brings the spirit of giving to campus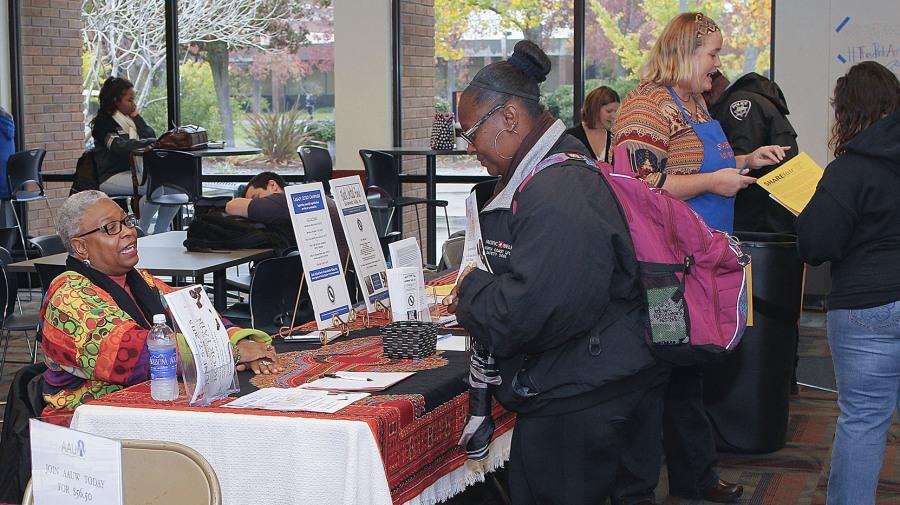 The holiday season is a time when most people get into the spirit of giving and being thankful for what they have. At Cosumnes River College, this mindset was alive and well as the seventh annual SHAREfair took over the cafeteria on Nov. 19.
English Professor Heather Hutcheson started the fair seven years ago to honor her father and give back to her community.
"My father passed away seven years ago, and we did the first one right before he passed away," said Hutcheson. "I started it as a tribute to him for all he taught me about the importance of giving back to the community and volunteering."
Each year, vendors from all over the Sacramento area set up shop in the cafeteria and accept donations for their causes and scout for volunteers.
The process to get into the fair is pretty simple. Nonprofits like Wellspring Women's Center, Front Street Animal Shelter, Elk Grove Food Bank Services and Reading Partners participation give them an opportunity to get out in the community.
There were 29 participants in all this year.
"
We have a really great turnout. Our community is super generous here at CRC."
— English Professor Heather Hutcheson
Rachael Valler from Reading Partners, an organization dedicated to helping the literacy of struggling students, said that it was her group's first year at the event.
"We love working with college students and they provide great reading tutoring for our students," Valler said. "We thought we'd come out here and see if we could find anyone who wanted to get involved."
Hutcheson finds participants through email and starts planning months in advance of the fair.
"We send out tons of emails starting in August welcoming nonprofits to participate either in the panels on the first day or in the fair itself," Hutcheson said.
SHAREfair collects everything from clothes, food, toys and paper products. A full and more specific list of what they are looking for can be found on CRC's website.
"We have a really great turnout. Our community is super generous here at CRC," Hutcheson said. "Our first year was so successful that we had two truck loads [of donations] and only one bin."
Hutcheson said that now they average ten truck loads of donations that their vendors pick up on the last day of the fair and that all of this could not be possible without campus participation.
"This cannot happen without the participation of students," Hutcheson said. "Students lend a hand working from the communications class, to donating to coming out and talking to the different groups. That's what keeps the groups wanting to come back every year."
The communications class that Hutcheson is referring to is Professor Sandra Wheeler-Abeyta's class that she has had volunteer for class credit the past six years.
"I think the trend in service learning is building every year," Wheeler-Abeyta said. "The idea that applying the course curriculum and Student Learning Outcomes to activism versus just a textbook experience is so much more valuable."
Wheeler-Abeyta said that the trend of donating during the holidays is a "mixed-bag" because the donations and volunteering are appreciated, but they are also needed year-round.
"That is why this event is so cool that Heather Hutcheson of course has organized and we try and support every year… she brings representatives in who do this 24/7 365 to realize that you might think about it more right now but there are needs throughout the year," Wheeler-Abeyta said.
Hutcheson attributes volunteering to a lot of her professional success.
"I have my job here at CRC mostly in part to gaining the skills and experience through volunteering in the community and then teaching part time and using those skills to then get a full time job here," Hutcheson said.
Students can donate on campus and at the Elk Grove Center through Nov. 21.