Student senate elections prepare for first online-only voting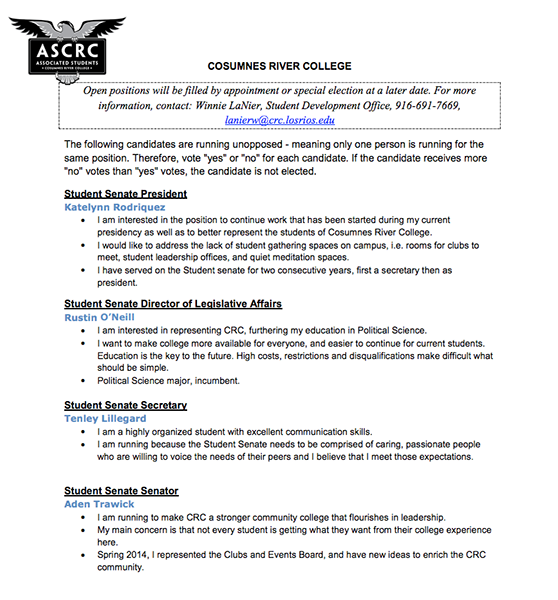 Cosumnes River College student elections are taking place April 14 and 15 and the Associated Students of Cosumnes River College is encouraging all current students to cast their votes.
Voting is open from 7 a.m. to 11:30 p.m. on both days. Students can cast their votes simply by logging onto their eservices account and clicking on the "Elections & Surveys" tab and then following the instructions. The voter guide can also be accessed through that tab.
CRC Student Ambassador Anna Lozano stressed the importance of voting in these elections.
"It is important because you get someone to represent what you want to see on campus," she said. "Someone who represents the things you want to change."
There are four candidates each running for different positions unopposed, according to the Los Rios Community College District voter guide. The positions are senate president, senate secretary, senate senator and senate director of legislative affairs.
Though the candidates are running unopposed, if they receive more no votes than yes votes the candidate will not be elected, according to the LRCCD voter guide.
More positions than the ones the candidates are running for are available. However, they will be left vacant due to a lack of candidates running for them, Lozano said.
"There is vice president, treasurer, appointed officers," she said. "They are just not going to be filled at all."
Despite the lack of candidates that are running, the ASCRC still encourages students to vote. There still exists a possibility that the candidates running could not make it in their desired positions should they receive more no votes than yes votes.
CRC Student Ambassador Isabel Marin says there are approximately 14,000 students that attend CRC and only 86 voted last year, which is also why they have been trying to actively promote the elections.
"We have been posting and handing out flyers," Marin said. "We have also been going to classrooms."
Amerah Edais, 20-year-old anthropology major, however, believes the promotion could use some more effort.
"I'm president of a club so I heard about it," she said. "I wouldn't have heard about it if I wasn't president."
Edais said she is taking seven classes and no one went to any of her classes to announce the elections.
Undeclared major Sherin Hassouneh, 19, said she agrees with Edais' statements.
"I didn't even hear about the elections," Hassouneh said.
Lozano, however, said that overall there is a lack of student involvement.
"There is definitely a lack of student involvement," she said. "Not too many people know what is going on."
Leave a Comment