Next stop CRC: anticipated Blue Line light rail extension opens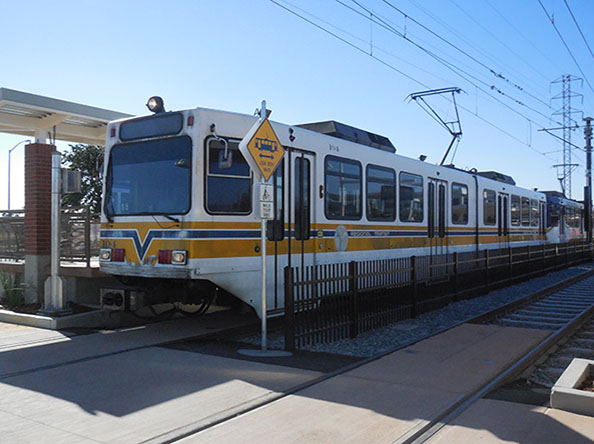 The much-anticipated Blue Line light rail extension to Cosumnes River College opened Aug. 24.
The Blue Line extension runs every 15 minutes from 5 a.m. to 11 p.m., and students and residents can now take the light rail directly to CRC from Sacramento City College, the Pocket area and downtown Sacramento. The project was completed ahead of schedule, and approximately $10 million under their $270 million budget, according to a Regional Transit press release.
"As for Los Rios, RT was extremely fortunate to work with this organization and their vision of providing transportation options to their students," said RT Project Management Director Ed Scofield.  "There was a time about 30 years ago where transit was not typically welcomed at college campuses in the Sacramento region.  However, fast forward to today and the Los Rios leadership has taken the lead of not only allowing transit on their campuses, but actually encouraging it."
The pre-opening on Aug. 23 was teeming with families and future passengers. The event hosted booths, games, food trucks, live entertainment and preview train rides.
The grand opening event on Aug. 24 included refreshments, giveaways and the arrival of the inaugural train, complete with Valley High School's marching band playing for the first riders getting off at CRC.
Although the CRC Light Rail is ready to ride, there is still work to be done on the individual stations. The bulk of unfinished construction lies with the pedestrian bridge at CRC, which connects the parking garage with the Light Rail station, in an effort to eliminate pedestrian traffic. These last bits of construction should be finished within the next couple of weeks, Scofield said.
The new Blue Line also brought four new stations with it at Morrison Creek, Franklin, Center Parkway and CRC. There are still construction touch-ups to be done at each station, but three of the four stations are in use. The Morrison Creek station, which is located in the undeveloped area in South Sacramento, won't be finished until 2017, when "future development occurs in this area," according to an RT press release.
Though it might take a little longer to sort out all the kinks of such a large project, most students and commuters said they were excited about the light rail line they have waited so long for.
"It's great and I love it, I'm glad they've done it," said sociology major Sabra Comer. "It makes it a lot easier. I had been waiting, and I'm surprised they finished ahead of schedule. It's perfect for me because I live right by 59th and Folsom."
CRC's Universal Transit Passes work with the bus and light rail lines, but the cost of the pass varies based on amount of units in which a student is enrolled. CRC has also encouraged passengers going to other locations to use the 2,000 Park and Ride spaces located in the new parking structure.
The general public, students and employees of the entire Los Rios District can park on campus with any of the approved permits: Daily pass, Semester Student Pass, Employee Pass, [or the] Regional Transit Monthly Pass, said Director of Administrative Services Augustine Chavez.
RT and Los Rios Police Departments have joined to increase security presence and make the new line as safe as possible, said CRC Public Information Officer, Kristie West.
"[Security] is a top priority for the college and RT," West said. "We want our students to ride light rail and the bus and feel this is a great benefit to them and the college. We want to encourage students, employees and the community to try it out."
With the extension project coming to a close, Scofield confirmed that it will not be the only one.

"RT's next major light rail extension could be going out to the airport," Scofield said. "It seems to have significant support throughout the region and is high on the priority list of elected officials throughout the County. Having said that, going further into Elk Grove seems like a natural step for a future extension from CRC."
Leave a Comment