Students and staff react to Trump presidency
Shock, fear, loss, triumph and glimpses of hope are felt deeply by the community of students and faculty at Cosumnes River College.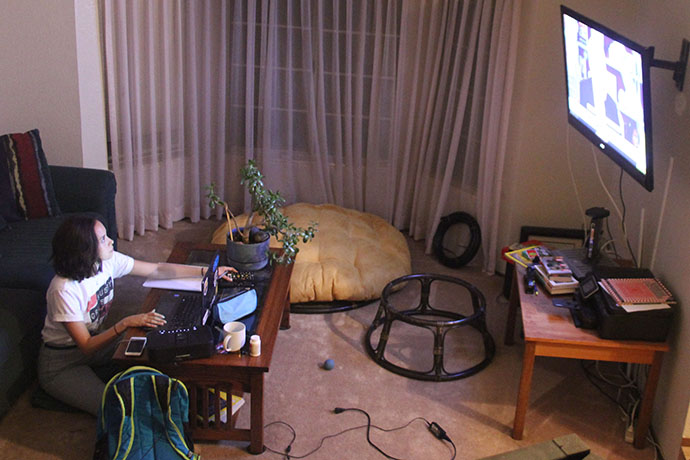 The results of the presidential election left an eerie feel across campus, and students shared their stories and their thoughts for the future. People of CRC watched the electoral map of the United States slowly fill with red on Tuesday night.
Donald Trump, the President-elect of the United States of America, won a tight race with 279 electoral votes to Hillary Clinton's 228.
"[I was] watching it go either way throughout the entire night, one moment it's going Clinton's way and one moment it's going Trump's way," said international relations major 21-year-old Lyonna Yohannes. "So as a liberal, that's disappointing and that's stressful to me."
It's been a nasty and derisive yet historic election season.
This election became known from the outset for its sexism, racism and xenophobia, primarily in regards to Trump's vulgar remarks about women, Muslims, African Americans and immigrants.
Sofia Rios-Dominguez, a 20-year-old film major, expressed fear and optimism about the results.
"I am so scared for my brown, black brother and sisters who are in red states right now. I think that that vote validated and reinforced a lot of votes of very racist, distasteful, and homophobic rhetoric and action and my heart is with them," Rios-Dominguez said. "I want them to stay strong and regroup, approach it hopefully starting tomorrow refreshed and positive no matter what happens."
Professor Maureen Moore, chair of humanities department, said she feels bad for the younger generations, especially millennials, knowing they will face a Trump-led nation and deal with its repercussions for decades to come.
"I'm sad that my fellow countrymen chose a bigoted, xenophobic, misogynistic, lying, irresponsible, unfit for office individual for president," she said.
Trump's win prompted concerns over how he'll lead.
"I don't know what to expect from Donald Trump, with me being an African American female," said 62-year-old Annice Porter, undeclared major. "You know, the people of the U.S. are going to be the laughing stock of the entire world."
Moore said millennials are part of the reason why Trump was elected.
"I think we're in a world of hurt with a Trump presidency," said Moore. "We're in for it now."
"But you know, we did it to ourselves. Millions of people didn't vote, and when people don't vote, Republicans win. Young people, millennials, they bought the false equivalency of Clinton to Trump, and they didn't go out to vote," Moore said.
Students said the election spoke to issues voters had with the political establishment and this year represented the tipping point for voter frustration.
Nephtali Robles, a 25-year-old international relations major, noted the American people's desperate need for change.
"They're frustrated. They're done with the way of politics as usual," Robles said. "It obviously hasn't been working for them in the way they expect it to be or the way they imagine it to be. It's been going on for a while and it hit a breaking point."
A Trump supporter, 28-year-old programming and cybersecurity major David Mattson, saw the night as a success that aligned with his expectations.
"I'm actually glad that I voted for him because he's actually the first candidate to run, at least in my lifetime, on a platform of anti-government corruption. And that's something that really strikes a chord with me," Mattson said.
The theme of anti-government corruption is something that many believe was a trigger point for voters who were looking for a candidate to recognize their issues.
"I think he tapped into something. I hate to say he tapped into some deep dissatisfaction, but the people he tapped into don't have all the proper relevant information," said Political Science Professor Martin Morales, chair of the political science department. "People will always vote against their own interest and not realize until it's too late."
"I think we, the voters, have sent a message that we are fed up with Washington. We are looking for a change – right, wrong or indifferent, they're looking for a change," Porter said.
There was an emphasis on political outsiders this election, from businessman Trump to Democratic Socialist Bernie Sanders. Third-party candidates like Green Party's Jill Stein and Libertarian Party's Gary Johnson stood in contrast to the typical cookie-cutter politicians.
Yohannes said she found it impossible to vote for the establishment-based candidate Clinton.
"Personally, I did vote third party because I live in California and either way it is going to go blue," said Yohannes said. "So yeah, I voted for Stein and so I don't think I put our country at risk at that. Honestly, if I'd voted for Hillary Clinton, I don't know if I could live with myself."
Maria Roman, a 19-year-old international relations major, said that third party candidates were used mostly as a diversion in this election.
"I think third parties are useful in the fact that, well, they would be useful if they were allowed to be in debates and they were allowed to have actual media coverage and have some more influence," Roman said.
This was also a landmark election because of the Democratic nominee. Although women have been running for president since before they could vote, Clinton is the first to garner a major party's nomination for president.
Even before this election, Clinton had her foot in the political door, having served as Secretary of State and one of only 46 women to serve in the U.S. Senate. Clinton's experience is a stark contrast to Trump's nearly nonexistent political record.
Shawn Feuerstein, a 45-year-old political science major, said he now wants to see how a presidential campaign built on fear plays out now that Trump is in office.
"Unfortunately, Americans have allowed this person to become our president. And he based his whole election plan on the fear that people had," Feuerstein said. "There was another leader, back in the '40s that did this. And, well, I'm curious to see how this is going to play out in the next four years."
Reporting by Andrew Maestas, Ashley Navarro, Matt Johnson, Andrew Flores, Julie Wallinger and Abigail Babineau.
Leave a Comment