Hawk Spot offers support to students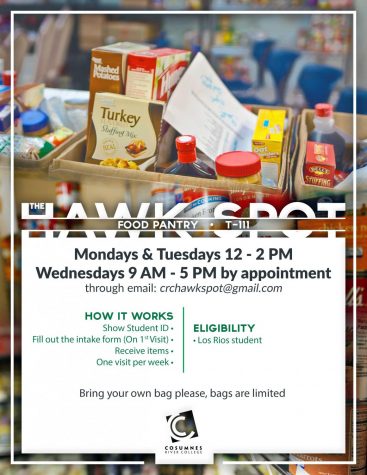 The Cosumnes River College's Hawk Spot is a student-operated food pantry in partnership with the Elk Grove Food Bank that provides food for student on campus.
As the Hawk Spot continues to open its doors for a third year, student ambassadors say change is up ahead.
"As more students have been using our services, we want to eventually change the type of food being given out," said Hawk Spot Student Personnel Assistant Jordan Cervantes. "Right now, it's mostly non-perishable items."
Student ambassador Medelin Velazquez said currently the food pantry focuses on having three primary categories of non-perishable items.
The take-it-home, on -the-spot, and staple items are what the pantry mostly has, said Velazquez.
"We know there are different kinds of students who don't have the same access, so we try to have something for everybody."
Any student in the Los Rios Community College District can use the services provided by the Hawk Spot, according to the Hawk Spot webpage.

Student ID needs to be presented and then students can come once a week.
"It's nice that struggling college students can take advantage of its services," said 39-year-old business major Emmanuel Horton.
Horton said he has been using the Hawk Spot on and off for over a year.
"If you need it, you can come," said Velazquez.  
Velazquez says the goal is to change the way the food pantry is perceived.
"We also want to change what kind of food is given out, we want to incorporate more fruits and vegetables so students have more healthier options," Cervantes said.
"We eventually plan to get connected with the United States Department of Agriculture," he continued. "Due to limited space and lack of refrigeration the Hawk Spot is not able to have perishable items."
Cervantes hopes that with more planning and coordinating they will be able to change the food pantry.
The food pantry has also changed its hours due to student demand, added Cervantes.
Velazquez said they added appointments on Wednesdays so students can have a set time to pick up their grocery bag and not have to rush on other days.  
"Student are also encouraged to bring their own bag as bags are limited," added Velazquez.
The Hawk Spot is open on Monday and Tuesday from 12 p.m.-2 p.m. and Wednesday on 9 a.m.-5 p.m. by appointment.
You can contact the Hawk Spot by email at [email protected] or visit their office in T-108.