Campus library provides new services this semester
This spring semester, the library has implemented a new loan program that allows students to check out textbooks and other technological devices for up to an entire semester.
Students can check out textbooks as well as borrow laptops and charging cables for a semester at a time.
"Things like laptops and textbooks can be very expensive which make it harder for some students to attend community college," said Librarian Ben Wingard. "If we can help lower the costs of community college and increase success for our students, we will."
Wingard said that students can search the online catalog to see which books are made available to rent for the entire semester.
"If the textbooks are marked as CRC-Extended Textbook Loan Program – 1 Semester, just pick up the copy off the shelf and bring your student identification card to check it out," Wingard said.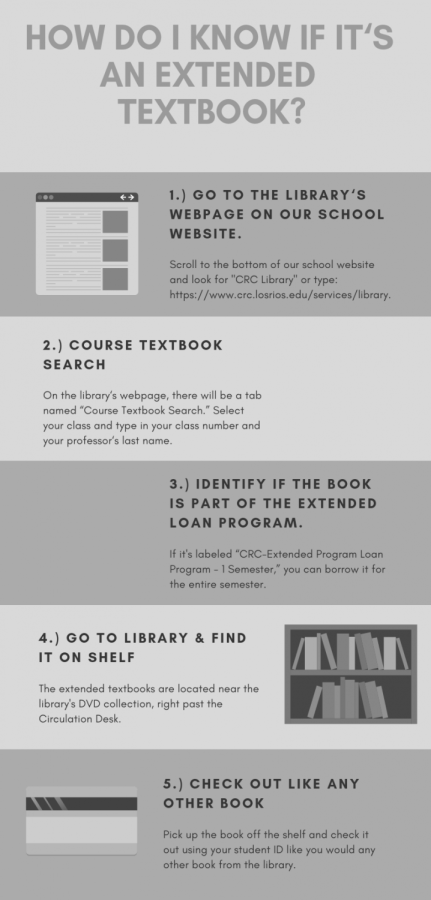 Channing Corbin, a 24-year-old art history major, said these services are important for students who don't have the expenses to buy textbooks and laptops.
At the moment, Wingard said students who are in programs like Extended Opportunity Program & Services, Puente Project, Veterans or who were referred by a counselor can check out a laptop.
Students need to bring their student identification cards and sign a student laptop agreement form to check out any devices.
Even though this service is available to all current students, people like 18-year-old business major Raymond Phung don't seem to know this new program exists.
"I really don't know anything about it," Phung said.
In addition to the loan program, Wingard said there is a student tech desk where students can go to and ask for assistance regarding their personal devices.
The library is open on Mondays through Thursdays from 8 a.m. to 8 p.m. and Fridays and Saturdays from 8 a.m. to 4 p.m.
Leave a Comment