Food insecurity is a problem for students
Many college students struggle to afford good food that is enough to keep up nutritional levels, according to a Jan. 9 U.S. Government Accountability Office report.
According to the report, the leading cause of students who are food insecure is due to low income. Among those in that category a majority have at least one additional factor contributing to their risk of food insecurity.
"Students are struggling to afford food for a variety of possible reasons, such as the cost of education, their family background, a lack of support that other students may have," said Personnel Assistant Jordan Cervantes.
Cosumnes River College is one of California's colleges that has a food pantry, and students are using it.
"As of right now, a little over 400 students are utilizing the food pantry every month," Cervantes said. He added that CRC has room for more students to utilize the food pantry.
The report, which collected data from 2016, said that the Food and Nutrition Service could make improvements aimed at making students better aware of the program.
"Food feeds the body, the brain, everything," said Fresh Success Program Specialist Magalean Martin. "It would just be very difficult to be able to concentrate and do well in your studies if you are hungry or worried about where your next meal is going to come from."
Mackenzie Ross, a 20-year-old television production major, said that the program gives students the opportunity to "focus on school."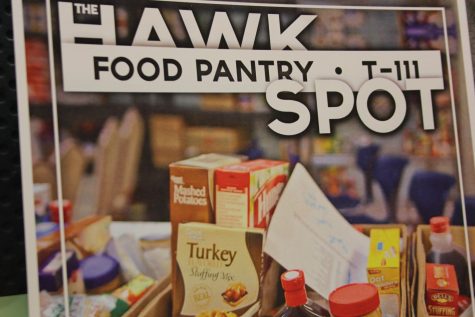 "It gives people a resource that allows students to focus on school and not money," Ross said.
Cervantes said the government shutdown has affected food security with regard to college students.
"Students were given their food stamps early in January in hopes that the advance would carry them over through February because they were not going to get any stamps for February so we did get an increase in students who needed to use the food pantry during that period of time," Cervantes said.
Cervantes also said they are looking to increase the size of the food pantry in the future and are hoping to do a farmer's market to increase accessibility to students.
"It could be good for local farm-to-fork too," said Aubrey Ade, a 24-year-old environmental studies major.
Ricardo E Ramirez, a 20-year-old radio, television, and film major said that a farmer's market would be good.
Hawk Spot is open Mondays and Tuesdays from 12 to 2 p.m. and Wednesdays 9 a.m. to 5 p.m. To apply, you must show your student ID, fill out an intake form and then pick up a bag of food.
Leave a Comment