Down to the Minute: Efforts to teach incarcerated students through grant and web feature to filter classes
"Down to the Minute" is The Connection's recap of Academic Senate Meetings.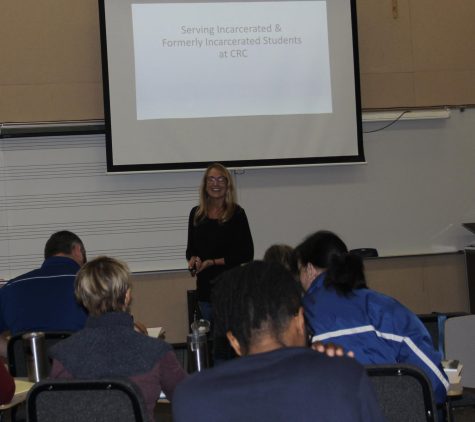 At the Academic Senate meeting on Friday, updates were given on the implementation of Guided Pathways as well as the Incarcerated and Formerly Incarcerated Student Grant.
The meeting was led by Senate President Gregory Beyrer, with others giving updates. 
Communications Professor Georgine Hodgkinson said that California began offering grants to community colleges to teach incarcerated students as there is a connection between education and staying out of prisons and jails. The project has been in the works since 2018, but the grant money was released just this year, said Hodgkinson.  
"We know that education makes a difference, that education can help reduce recidivism," said Hodgkinson. "70% of people who have been in prison are back in prison unless they have an associate's degree it drops to 14 percent and if they have a higher degree it drops lower."
Cosumnes River College was awarded the grant, which will provide a faculty program coordinator and hiring an inmate education specialist on campus. CRC is currently teaching culinary classes at the Folsom Women's Facility as well as teaching classes in automotive technology, construction management and public speaking at Rio Cosumnes Correctional Center.
Nutrition and Food Professor Dana Wassmer spoke about General Education Themes on campus. She said that the G.E. Themes are to help students better connect and understand the G.E classes they are taking as requirements. 
"Students are taking G.E. without any real connection to the G.E.," said Wassmer. "By creating the theme, we can give them meaning and value to what they are learning so it can be cohesive for them."
Another thing that is looking to be implemented is High Point, which allows students to filter their class searches in a way that is easier for them to find classes that fit their needs and schedules. 
Wassmer said an example is of a student who can only take Tuesday and Thursday classes. Through High Point, the student would be able to see what courses and sections they need to take for their major and when it is offered, Wassmer said. 
"The schedule builder is the tool students can use to filter their needs," said Wassmer. 
Beyrer said Arizona State University will allow students in the Los Rios District to complete an associate's degree to transfer online in two years and complete their bachelor's at Arizona University.
Beyrer said one of the things being decided is what major would be the first to participate in the program. The majors being considered for the program would be out of psychology, business, communications, sociology, and administrative justice as those are the five most popular degrees awarded across the district. Beyrer added that they are testing out only one of those majors to see how successful the program would be. 
The next Academic Senate meeting will be in room M306 from 12 to 2 p.m. on Oct. 4.
Leave a Comment