Fourth annual Sacramento Women's March rallies in peace for equality
Women's March Sacramento celebrated their fourth annual rally and Women's March on Saturday. 
Thousands of people marched from Southside Park to the State Capitol while holding up signs and chanting. Many wore on their heads the infamous pink "pussy" hat that symbolizes feminism. It is also a form of protest against President Donald Trump. 
"I like the amount of signs that are encouraging women to go out and vote, not only to vote but run office," said 18-year-old Riley Klingamen. "It's such a cool and powerful movement."
After the march, people gathered together to see the performances, speakers and music shown at the State Capitol.   
As the marchers made their way down to the State Capitol they chanted "Hey hey, ho ho, Donald Trump has got to go." Another popular chant was "What do we want? Women in office," responding with "When do we want it? Now!"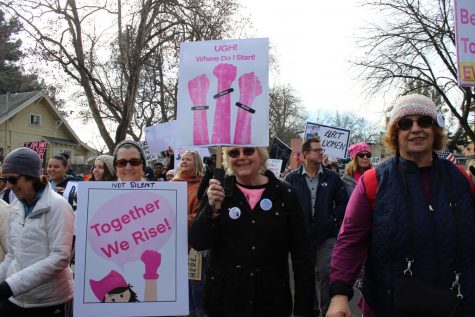 Several organizations were out tabling before the commencement of the march. Organizations such as, the Sex Workers Outreach Project of Sacramento, the American Association of University Women, Women Lawyers of Sacramento and more.  
The Sunrise Movement, a youth-led political movement, tabled before the event began.
Twenty two year old, Logan Dreher, is a member of the Sunrise Movement and said they focus on how climate change can affect all kinds of people. 
"I started getting into politics after the 2016 election when Donald Trump was elected," said Dreher. "When we have days like this and come together to show our power that's a really great opportunity, that's why I came out today." 
Health educators from Planned Parenthood were also part of the Women's March and they discussed the challenges they are currently facing with issues on women's rights. 
 One of the educators, Jovanny Harris, said the march was a good opportunity to be in solidarity with one another. 
"All of us here are all connected in some way," said Harris. "The goal right now is that in this upcoming election that we are focused on what we have to take care of and continue to show support."
They are currently fighting for abortion access, access to birth control, healthcare equity, voting rights and more according to the Planned Parenthood website.
Several participants held up signs that said "keep your policies off my body," and "Girls just want to have Fun-damental rights." 
According to the Sacramento Police Department, they estimated between 10,000 and 12,000 people attended the march throughout the day.  
From this nation-wide event, the main objective was to be heard, to be seen and to gain equality for each and every person.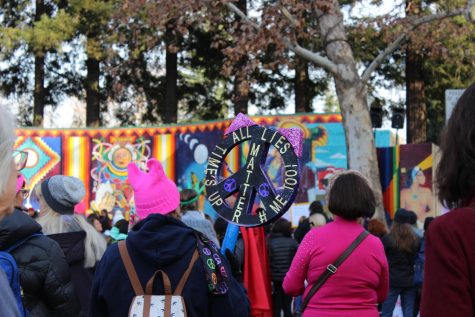 Kristen Diangelo, the Co-Founder of the Sex Workers Outreach Project of Sacramento, said that they specialize in both human and labor rights and they provide all kinds of direct services. 
"We are out here raising awareness on the need for the decriminalization of people in the sex trade," said Diangelo. "So they can have labor rights and so they can be protected under the law like everyone else."
Diangelo said they were tabling at the march to focus on the factor of solidarity. She said we need to fight for equal wages, labor rights, safety, and equal opportunities for all women. 
"We cannot exclude anyone, period." said Diangelo.