Women's soccer loses at home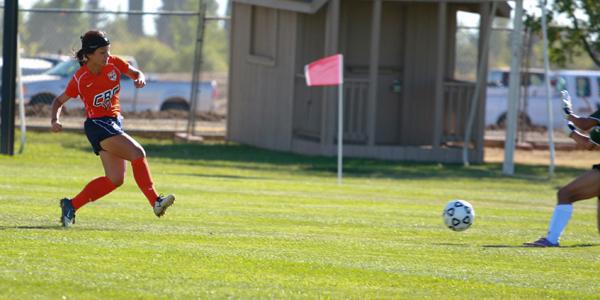 Hang on for a minute...we're trying to find some more stories you might like.
The women's soccer team snapped its four-game winning streak on Sept. 27, losing 2-1 against the Diablo Valley College Vikings.
Sophomore midfielder Anghela Gonzales and freshman forward Violetta Alaiyan each scored for the Vikings while freshman midfielder Jordan Moore made the lone goal for the Hawks.
"We made some really bad choices today with the soccer ball," Cosumnes River College head coach Cesar Plasencia said.
Diablo Valley displayed athleticism early on in the game, competing for control of the ball. Three minutes into the first half, freshman goalkeeper Claudia Lara broke left on a play, allowing Gonzales to receive the ball on the right side of the net and make an easy score.
Diablo Valley continued to pressure the Hawks' defenders by finding open players for quick passes and setting up scoring schemes.
The Hawks finally broke loose when Moore headed a pass from sophomore forward Ashley Torres into the net, over the shoulder of unsuspecting Vikings sophomore goalkeeper Sam Liubicich to tie the game 1-1.
"We got a little momentum back and a little pumped up," Moore said.
Both teams continued to attempt scoring plays but it was clear that the Vikings were in total control.
By blocking passes, intercepting balls in mid-air and stopping the Hawks' forwards whenever they were close to scoring, Diablo Valley set the tone for the rest of the game.
Yet the Hawks did have a scoring opportunity in the middle of the first half. They strung together a few passes that resulted in a goal by freshman forward Katie Ulan. However, the goal was declared invalid because of an offsides penalty.
"It definitely changed the momentum. It went from being up a goal to still being tied," Moore said.
With two minutes left in the first half, Alaiyan scored, resulting in a 2-1 lead for the Vikings.
The Hawks did not take the goal lightly.
They started off the second half with a renewed sense of offensive power by attacking the Vikings' defenders. Yet the problems that plagued CRC, inaccurate passes and failure to control possession in the first half, made it impossible for them to make any comeback.
"I thought our success was definitely in the collective effort as opposed to any individuals out there today," Vikings head coach Cailin Mullins said.
The women's soccer team will look to recover its mometum following the loss.
"The question is if we can create some collective soccer at the next level," Plasencia said.