Hawks fail to snap Santa Rosa's undefeated conference record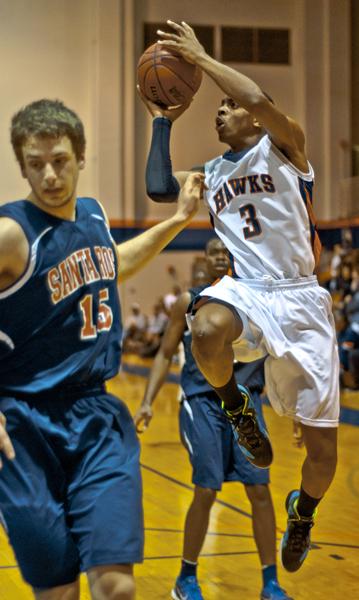 Perimeter shooting and interior defense propelled the Santa Rosa Bear Cubs (18-4, 7-0) past the Cosumnes River College Hawks (14-8, 4-3) 73-66, on Jan. 24.
The Bear Cubs made 12 3-pointers, all of which came from four of its guards, to help them extend their perfect record in conference play to 7-0.
"We shoot a lot of threes," said Craig McMillan, head coach of Santa Rosa. "That's kind of our team, we have all year. For the most part we've shot a pretty good percentage."
The Bear Cubs shot the ball well from the get-go and built an early double-digit lead.
The Hawks played strong defense, but even contested shots didn't stop the Bear Cubs from putting the ball in the basket.
"This is one of the best shooting teams in the state of California," said James Giacomazzi, head coach of the Hawks. "You could be all over them and you're not going to stop them from shooting threes."
The Hawks never got much of a rhythm going offensively in the first half, as Santa Rosa focused on interior defense and kept CRC from scoring points in the paint.
"I thought we did a good job taking away their inside game, they have a really good inside attack," said McMillan. "Their post guys hit some threes, but they didn't get a lot in the paint."
Hawks' sophomore forward JJ Mina hit four of his five 3-pointers during the second half, as the Hawks scored 42 of their 66 points during that span.
However, Santa Rosa never lost control of the lead. The Bear Cubs countered CRC's 42 second-half points with 41 of its own.
In the end, the Bear Cubs finished with four players scoring in double-digits, including a game high 21 points from sophomore guard Sama Taku.
Giacomazzi said his team attacked more in the second half, but the Bear Cubs kept finding a way to stay ahead.
"They were hot in the second half and when they would pull away, we came back, and they would pull away, and then we'd come back," he said.
The Hawks are looking to stay above .500 in conference play as they take on Delta College in Stockton on Friday.
Going into the next game, Giacomazzi said his team needs to play more consistently throughout the game rather than just one half.
"I just think that we need to continue to attack," he said. "I think we come out a little bit passive at times and I think we just have to be aggressive for 40 minutes rather than 20."