Men's soccer capture elusive victory, defeat College of the Sequoias
The men's soccer team snapped a three-game losing streak by beating College of the Sequoias on Oct. 9.
Everything finally clicked for the Hawks, who hadn't won a game in over a month.
They played aggressive and were able to dominate the entire game. The Hawks' intensity was unmatched and they won 3-0.
"We had an epiphany," head coach Ron Preble said. "We have a better picture on the style of soccer we are trying to play."
The epiphany was a success.
From the opening whistle, the Hawks were filled with energy and aggression as they won the possession battle early. The Hawks forced the Giants onto their heels and made them settle in on defense.
With 18 minutes left in the first half, Hawks' freshman midfielder Ronald Bonilla shot a ball that ricocheted off the crossbar, allowing freshman forward Jose Escamilla to strike a header past the goalie and put the Hawks up 1-0.
"I was making a run, hoping for a cross," Escamilla said. "It deflected off the post and I was at the right place at the right time and took advantage."
The goal gave the Hawks the momentum and they continued to dominate the possession battle with patient, clean passing.
Just before halftime, Hawks' freshman midfielder Javier Lopez passed the ball to his streaking teammate, freshman midfielder Chimmy Power, who chipped the ball over the keeper's head for the goal, which increased the Hawks' lead to 2-0.
"I was watching the back line and I made a run," Power said. "I saw the goalie come out and I decided to just chip him."
The second half was more of the same, the Hawks were first to nearly every loose ball, and utilized precision passes to hold possession.
Despite the deficit, the Giants continued to play tough.
"They had some pace and some chippiness," Preble said. "They have good players."
However, the Giants were simply outplayed in the second half, and had a tough time putting any significant pressure on the Hawks.
To add insult to injury, Hawks' freshman forward Rigoberto Gomez scored in stoppage time off  a pass from Lopez, his second assist, which increased the lead to 3-0 and solidified the Hawks' performance.
"After struggling, I finally managed to score. It was a great assist from Javy," Gomez said.
Although the Hawks played great and snapped their losing streak, the coach and team realize there is always room for improvement. Both emphasized the final pass as a focal point.
"Our final pass is a little suspect and our defense needs to be improved," Preble said. "But we've been on the verge of this win for a while now."
Leave a Comment
About the Contributor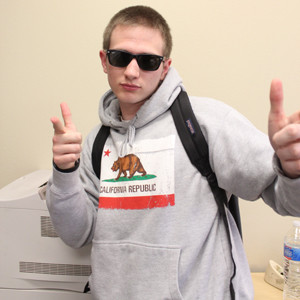 Cody Durham, Former Staff
Serving as a staff writer, Editorial Sports Assistant & Sports editor, Cody was part of the Connection staff for three semesters. A semester of assisting...