Hawks' hope for a comeback late in game against Yuba College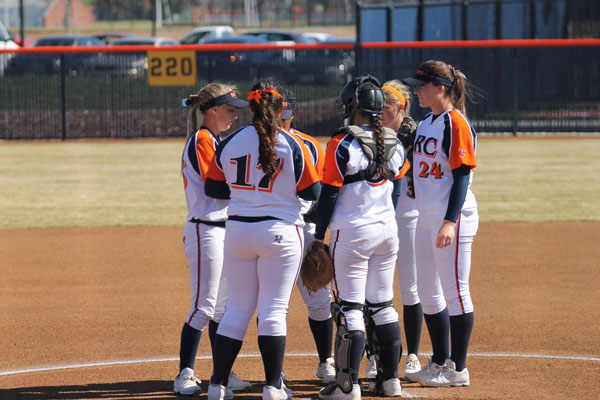 Hang on for a minute...we're trying to find some more stories you might like.
The Cosumnes River College Hawks' softball game against Yuba College on March 9 was different from the start, with the National Anthem CD having been forgotten. An announcer in the box had to sing the National Anthem to start the game, with the Hawks losing the game 11-6.
And, a rare occurrence thus far in the season, sophomore Allison Barsetti was not the starting pitcher, instead she played first base for the entirety of the game.
Freshman pitcher Brittney Jones started the game, with freshman Jessica Venturelli coming in to pitch in the top of the third inning. Venturelli was relieved halfway through the top of the sixth by sophomore Ariel Corona.
"I just wanted to give her [Barsetti] a chance to breathe," said Hawks' head coach Kristy Schroeder. "We have a big conference game on Tuesday, and so I just thought we could give her a break, give somebody else a chance to start a game, see what they're capable of doing. … She'll be starting Tuesday."
Sophomore catcher Lauren Szoboscan said the pitchers played well.
"They did good," Szoboscan said. "They noticed what they were doing wrong … and kept it low and battled back and forth."
Personally, Szoboscan said she felt confident in her at bats, but could have improved her blocking and catching.
Yuba took control in the top of third inning, scoring three runs and bringing the score to 5-1.
The Yuba 49ers went through seven batters that inning, two of which were walked. The runners took advantage of dropped balls to steal bases, while the batters advanced.
Sophomore catcher Dyllanne Brown was the first batter of the inning, and was walked. After a sacrifice bunt to move her to second, sophomore first baseman McKenzie Kraus hit a groundball single to bring her home.
The Hawks tried to battle back late in the game, but a full comeback wouldn't occur.
The Hawks were trailing going into the bottom of the sixth inning and put on a strong show with nine players at bat, scoring an additional four runs to bring the score to 9-6.
Sophomore utility player Gabrielle Magana started the inning with a double before being substituted at second base with freshman pinch runner Laura Villano. Szoboscan was next at bat, hitting a single just right of center, batting Villano in for the first score of the inning.
Sophomore short stop Alissa Greenhaw hit a line drive double down third to bring in two runs before freshman second baseman Amy Pedretti hit a single over first base to bring Greenhaw home.
The 49ers scored two more runs in the top of the seventh inning, effectively ending the game.
"We had a couple of sun balls that we usually make and it cost us some runs in the end there too that kinda put us out of reach," Schroeder said.
Yuba's head coach Stephanie Reynolds said that her team communicated better than usual, and that she was pleased with the way her team played.
"It's the last game we have going into conference, and its always nice to come up with a win going into conference, so it's a big win for us," Reynolds said.