For college athletes, time is on their side
It's become an increasingly important question for elite college athletes over the last few years.
Should I stay in college to better my craft and risk injury or go pro and make some money, but risk having a shorter career?
According to the NCAA, only 1.7 percent of college football players will ever take a snap professionally. It gets even slimmer when it comes to basketball, a miniscule 1.2 percent ever play professionally.
So the obvious answer would be to stay in school and get that degree. But let's be honest, those 1.7 and 1.2 percentages are the players everyone talks about. They are usually the top of their class in college.
But then there are guys like Lebron James and Kobe Bryant who never went to college, but have become the greatest basketball players in the last two decades.
When I bring them up, your answer may be a little different. However, what  those stats say and what players like James and Bryant tell us is that it takes a special type of the player to make a name for themselves when they leave college early or don't even go to college.
You cannot fault a 19-year-old kid for leaving college and declaring for the NBA draft. There is money to be had and fame to be taken, but sometimes a player must face the fact that he isn't quite ready.
Take a look at a guy like Andrew Luck of the Indianapolis Colts, he played all four season at Stanford and was taken as the number one overall pick in the NFL draft. He also has a degree in architecture. Undoubtedly, he will be a star.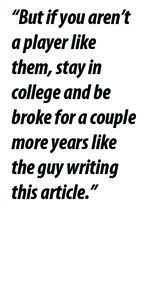 But, what you also have to look at is that when his football career is over, he has a degree to fall back on. And if an injury ended his football career early, he isn't S.O.L. like many players would be.
As you read this many of you will bring up Matt Barkley, who many experts say should of left college a year earlier because he would've been a top 10 pick. That is a possibility, but can you honestly say that spending another year in college made him worse?
You'll also probably bring up the guys who have had success after leaving college early for both the NBA and NFL: Matt Ryan, Atlanta Falcons, Derrick Rose, Chicago Bulls and a myriad of others.
To which I will say, sure if your player like Ryan or Rose, leave early. You have the skills to make it.
But if you aren't a player like them, stay in college and be broke for a couple more years like the guy writing this article.
Staying in college by no way can hurt anyone. Yes, you risk injury, but I'm also risking carpal tunnel syndrome from typing this.
Stay a little longer, hone in on your craft and you just might make it in the pro's.