Freshman goalkeeper stands tall in front of the net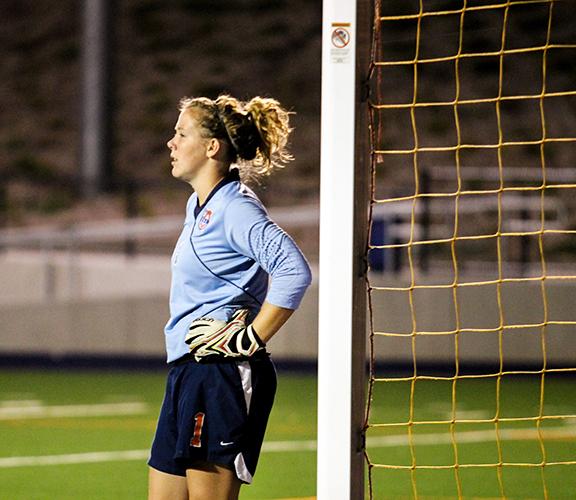 The one quality that stands out about the goalkeeper of the Hawks' women soccer team is "her fearlessness," said freshman defender Korie Martin. "She's not afraid to get in there, to get knocked down, to get kicked or cleated. She'll go in and she just wants the ball no matter who has it."
Head coach Cesar Plasencia said that "she's super competitive, so she's always giving her maximum effort to keep the ball out of the net."
These two statements refer to Anna Brown, who has been a dominant force this season in front of the net.
The freshman has been named Student Athlete of the Week twice, and has shut out four schools in the 12 games she's started, three of which were in Big 8 Conference play. Brown has given up only 11 goals in 12 games, four of which were goals that came from a loss at San Joaquin Delta College on Oct. 8, according to the Hawks' athletics statistics.
Brown was recruited by the women's soccer coach Cesar Plasencia, but took her academic freshman year off from sports after having been playing since she was 5 years old. Brown focused on her schooling as an early childhood education major for her first year.
"Honestly, I was kind of burned out from soccer," Brown said. "I played competitive through high school. I stopped [playing in other competitive leagues] my sophomore year and played high school soccer. That's not something I wanted to do."
In her second year at CRC, Brown joined the soccer team and has been a key part of the through the beginning of the season.
"I was recruiting goalkeepers and had her in mind, and called her when the time came, to see if she was interested in playing in the following year and fortunately for us she was," Plasencia said.
While most players on CRC's team come in under 5 feet 5 inches, Brown is 5 feet 9 inches and Plasencia said that her size and her hands are a big contribution to her success.
Brown didn't start as a goalkeeper, having played different positions through recreational play. Starting her last year of competitive play, Brown switched from defender to goalkeeper and took to the position.
"Being a goalkeeper is a completely different level of concentration and I really enjoy that my position is completely different," Brown said. "I'm the last line of defense and a lot of pressure is put on me and I enjoy the pressure. I don't collapse under pressure."
Martin played soccer with Brown for six years before the pair joined forces at CRC and the two are friends outside of the sport.
"She's one of the best players I know," Martin said. "She is always into the game and she is always just ready to win. She is really competitive and has a lot of good feedback from games."
Brown is unsure if she will continue to play soccer after next season, as she wishes to pursue her major at a four-year university. However, a soccer scholarship would entice her to continue to play, she said.
As an ECE major, Brown hopes to one day teach autistic kids or work in speech therapy.
"My brother has a really bad stutter–I mean it's getting better–but that's something that the teachers didn't want to help him with," Brown said. "Kids need help with that when they're young; my brother is 15 already and he still stutters because he didn't get the help he needed."
Plasencia is very hopeful that Brown will be able to get a university scholarship offer when she is ready to transfer if she continues playing as she has.
"She is definitely a scholarship-type goalkeeper," Plasencia said. "She has another year to continue to develop and get better, which she has been doing throughout the course of the season. No question, she will be somebody who four-year schools would be interested in."