Hawks look to use competitive nature to their advantage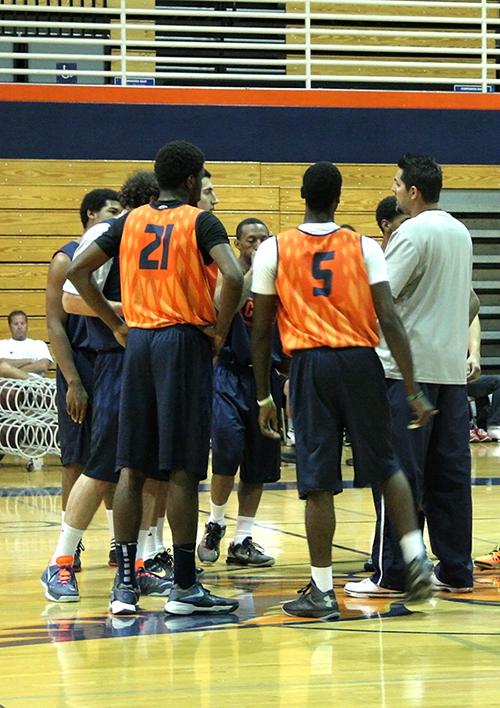 Camille Caulk, Staff Writer
November 14, 2013
With the start of the season quickly approaching, the players of the men's basketball team go hard on the wood in preparation for a strong and successful season.
With brand new players from as far as the East coast to right here in the valley teaming up with returning sophomores ready work with and learn from, Cosumnes men's basketball head coach, Coach James Giacomazzi.
It is vivid that Giacomazzi is dedicated not just to the game but to his players.
"You can really tell he cares about his players, he's not just in it for the wins, but he really cares," said sophomore guard AJ Bridges.
Giacomazzi is excited for the the promise of the coming season, but said that the team's emotions could play a factor.
"It's competitive, we're more competitive this year than any other year … And once we learn to harness those emotions we should be good," he said.
Bridges also agreed with the competitive level of the team this year. On a scale of one to ten how competitive is the team he responded with, "definitely a ten."
Constant hard work and advancement is the goal for the team, with requirements such as having to run five miles for every missed practice, no matter the reason. It is an excellent motivator for the players to come prepared, on time and focused.
"It makes me be on time for sure," said sophomore forward TJ Williams.
Freshman guard Mitchell Love said he is "not going to miss practice" because of a rule that players have to run five miles when they do.
The chemistry on the team shows that players are more than just teammates, but comrades. They work well together and are all understanding that they are all there for the same things and for the same reasons.
Each player has input and experience completely different from another, that can be shared to build a well-rounded, diverse and equipped variety of young men.
"You can't walk before you can crawl," Giacomazzi said about winning the state championships this year.
While the odds may or may not be in the Hawks' favor, it is important to take it step by step or game by game and not get ahead of themselves
The first tournament for the team is at San Jose Community College, and it was agreed upon from each of the players and coach that it will be a good learning experience for the team, enabling them to see what their strengths and weaknesses are as a team.
"It'll be good for us, we'll get to see what we need to work on as a team come back and improve on those things," Bridges said.
With both players and coaches on the same level for dedication, commitment, progress and growth the men's basketball team of 2013-2014 is shaping up quite handsomely.