The Cheap Seats: What to do with Johnny Manziel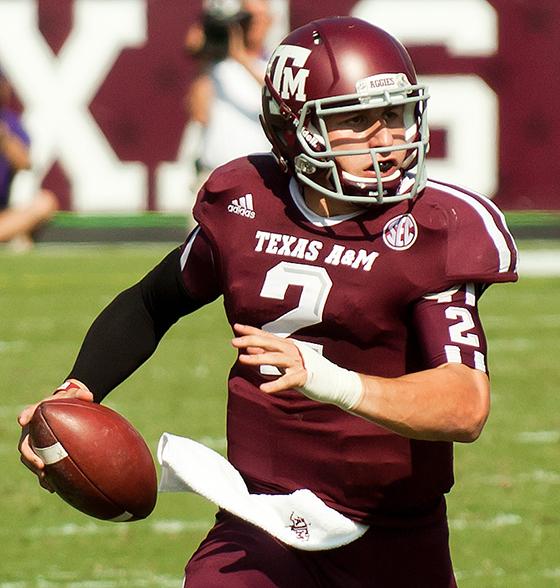 He's too hot headed, he has durability issues, he's too small and he doesn't fit the mold.
Those are all reasons that experts and analysts have come up with to tell NFL teams to stay away from Texas A&M star Johnny Manziel or Johnny "Football" as he is affectionately known.
The experts have it right when they say Manziel doesn't fit the mold. He's a shade under 6 feet and he weighs 207 pounds. Obviously, a little small compared to today's NFL quarterback.
But Maziel is so much more than his size, he is the ultimate play-extending, gun-slinging, make-it-up-as-you-go dual-threat quarterback we've seen since Steve Young.
The truth is, no one knows what to make of Manziel.
However, we do know that he will not be mediocre. It is either boom or bust for a player with his style.
It is that very reason that makes him so intriguing at the top of the first round of the May draft for NFL franchises.
While there is a very real potential that one of the teams like the Houston Texans, Jacksonville Jaguars and Oakland Raiders, to name a few, could strike out on Manziel, there is an equal chance they hit a home run.
That is why Manziel will go in the top 10 and it is the same reason he has the chance to be on of the all-time greats.
Yes, he may rub people the wrong way, especially after his alleged payed autograph signing got him into a little trouble.
But in typical Manziel fashion, he shrugged it off in a way that split his supporters and detractors even more.
After throwing a touchdown pass, Manziel unveiled his "show me the money" signal. Yes, it was a bit over the top, but that's what makes him great.
It's refreshing to see an athlete who isn't robotic like most we see and hear from today. He isn't afraid to show how he feels, and he is the ultimate competitor. He is the definition of a bull dog.
Following Manziel's pro day, which featured a record crowd and former president and first lady George H.W. and Barbara Bush, Minnesota Vikings' coach Mike Zimmer said he was unimpressed and call the pro day a "sideshow."
Those are strong words from a coach who is on a team that could draft Manziel, not to mention the franchise that had the quarterback that Manziel is most often compared to in Fran Tarkenton.
Oh, and by the way Tarkenton, a hall of famer, called Manziel a "quarterback savant" and said Manziel most closely plays like him.
Maybe Zimmer is just afraid.
Love him or hate him, Manziel has a spot in the NFL. Defensive coordinator's fear him, offensive coordinators aren't quite sure what to make of him and fans are just trying to figure out what this guy has.
I'll tell you what he has: a lot of potential and the chops to back it up.