CRC Hawks defeat San Joaquin Delta College Mustangs to tie for first in Big 8
The crack of the bat and the sounds of the crowd, along with the requisite rendition of the national anthem, kicked off the first of three games between the Cosumnes River College Hawks baseball team and the San Joaquin Delta College Mustangs on April 22.
Coming into the game, the Hawks stood tied for second place in the conference with Santa Rosa and Sierra colleges. Their opponent, the Mustangs, were first in the conference.
The Hawks took the first game of the series, 1-0. Sierra College and Santa Rosa colleges came out of their games with Sierra tied for first place with Delta and CRC, all resting with a conference standing of 12-7.
"We pitched well, that's what got us through," said sophomore pitcher Zach Stilwell. "We had a big run in the first inning and we just kept them down."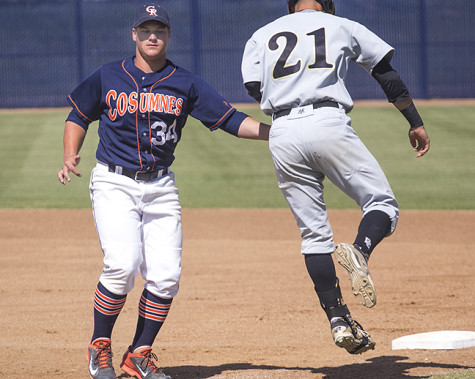 First up to bat, sophomore outfielder Kasey Chapan was brought home when sophomore catcher Cody Morris sent a ball down the left field line. Going for a double, Morris was tagged out when freshman infielder Drake Atlee chose to remain at second base instead of going for third leading to Morris being caught between bases.
"We played real good defense, [and] we pitched extremely well," said the Hawks' head coach Tony Bloomfield. "Cody had a real good game. We got one run the first inning, and it held on. Usually it doesn't hold on."
From that moment the game swiftly changed to a battle as the Hawks fought to maintain their one run lead. A slew of quickly played innings, with most players struck or caught out, led to the Mustangs gaining position to score in the top of the seventh.
The Hawks shut their movement down quickly as the Mustangs sophomore first baseman CJ Owens and sophomore infielder Connor Torres were caught in a double play executed by sophomore infielder Michael Chavarria, sophomore infielder Hunter Carolan and freshman first baseman Nathan Ahlers.
Both innings after that ended just as quickly as the one's before.
"I think we did really good to win a 1-0 game" said sophomore outfielder and closing pitcher Joshua Pigg. "I mean [we] just threw a shutout pitching wise. We could have done a little better hitting, with our situational hitting, maybe got another run or two, but overall I think we did really good today."
Making sure they have a game plan at the plate and being more aggressive were two things that Stilwell said would help them in the next game against Delta.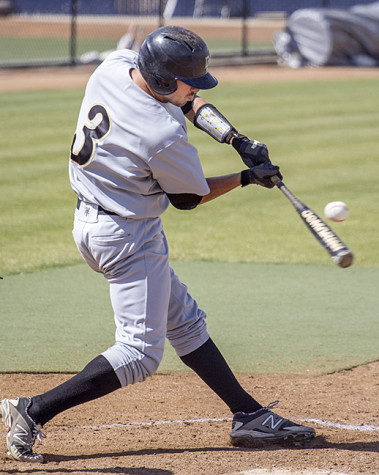 Undefeated in the beginning of the season, the Hawks entered a period where games riddled with errors led to quite a few losses. Turning the season around they now stand poised to possibly take first place in their conference.
"We got to get the ball in play more. We struck out too many times," Bloomfield said. "We had too many weak flyballs. We got to score more balls up, and hit more line drives, not hard ground balls [because] that's a better chance for weak fly balls."
Pigg said that "the desire to win" was one thing that helped turn the team back around.
"We just kind of clicked, we stopped making errors," Pigg said. "I guess what it was we just took a lot of repetitions in practice and made sure it didn't happen again."
The second game between the Mustangs and Hawks is at Delta college on April 24, with the final game taking place at CRC on April 25.
"We know what we're playing for, we're trying to put a banner on the damn outfield fence," Bloomfield said. "That's what every team does here."
Leave a Comment