Rough start hasn't dampened team's ambitions or drive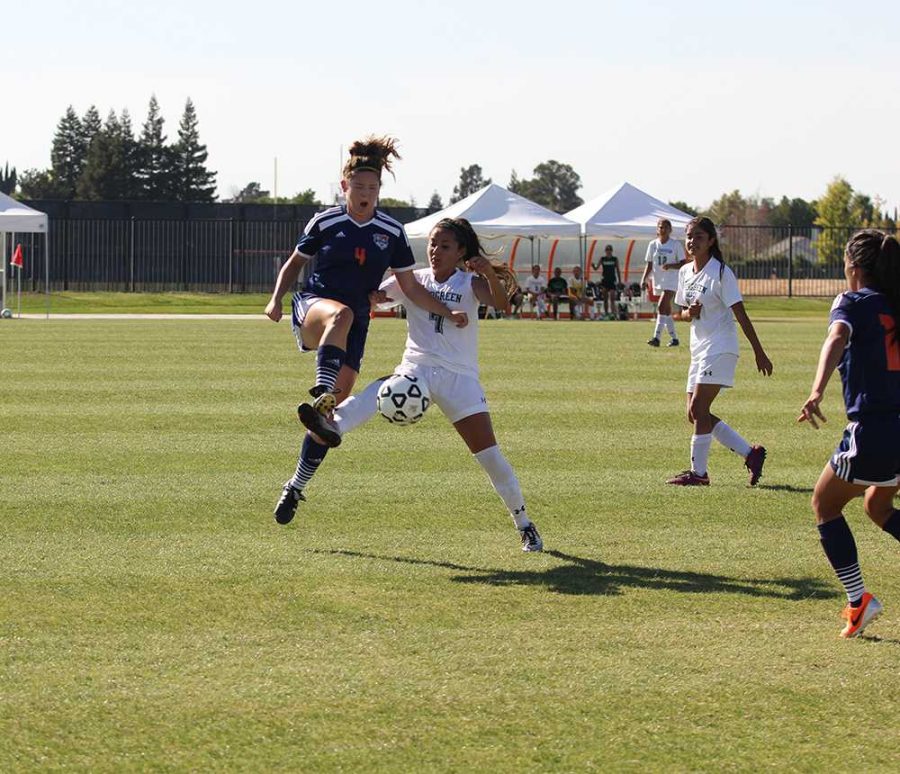 The Cosumnes River College women's soccer team is having a less than desirable start to the sea-son, but the team isn't letting it get them down.
The season kicked off on Aug. 29, and since then they've had two losses and two ties.
"You know, we have a tough schedule and we haven't addressed it very well yet. We had two losses and two ties in our [first] four games, so [we're] not [doing] as well as we would like, but we have played high quality opponents," said Cesar Plasencia, the team's head coach.
Freshman midfielder Marissa Lopez said continued practice would help the team through the rest of the season.
"I think after we have a lot more practice and bonding, the team will get better and we'll come together and play very, very well," Lopez said.
Although the 2014 season has had a bumpy start, the team did make it to the third round of the California Community College Athletic Association Nor Cal regional playoff s last year and said they hope to do so again.
"
I think we'll be ok when it is all said and done, but right now we are going through a little bit of a rough patch to start out."
— Cesar Plasencia
"I think this is one of the best teams that we've had and we have really good players," said sophomore defender Kori Martin. "Players that want to win and players that want to get better."
Plasencia said the team will absolutely make the playoff s once again this season.
With their first conference game on Sept. 23, the women said they are feeling confident about the outcome. "I think as we keep practicing and playing together it's gonna click and we're going to be able to soundly go on the field and win," said sophomore defender Allison Krebs.
Jena Mamola, a sophomore defender, said there was some late starting with training this summer.
"We had two weeks of straight training, no scrimmages or anything. Something happened and we couldn't do anything over summer so we started late and since then we've [been] doing a lot of tactical stuff ," Mamola said.
Most of the team said freshman midfielder Kate Burkhardt was their player to watch as the season progresses.
"She is one of the players that you know is going to come in every game and make a difference," said Martin.
Freshman forward Hanna Doughty said that the team chemistry is strong.
"The team is working very well together," Doughty said. "A lot of the players, the freshman that have come in have played club together and so they work really in sync and our sophomores already played a year together and so everybody is meshing really well."
Plasencia said he is not letting the scoreboard dictate the rest of the team's season.
"We're trying to get ourselves ready for all of the challenges," Plasencia said. "I think we'll be okay when it is all said and done, but right now we are going through a little bit of a rough patch to start out."
Leave a Comment