Softball coach balances life on and off the field
In order to be successful every team needs more than just skilled players and a drive to win, they need a coach that can inspire and lead them to that success.
For the last five years that coach for the Cosumnes River College softball team has been Kristy Schroeder.
Schroeder said that she believes in coaching her girls with the philosophy of following the game fundamentally, mentally and playing with high energy all the time
"If you can do those three, you are going to give yourself the best chance to win," Schroeder said. "These are the things in the game that we can control. We can control doing things mentally sound, we can control being mentally focused and we can control having high energy."
Schroeder said that seeing her players succeed and take the techniques that she was able to teach them is what she enjoys about coaching.
Much of what Schroeder brings to coaching at CRC comes from her own experiences playing softball.
During her studies at University of California Los Angeles, Schroeder was a four-year starter at shortstop for two national championship teams in 1990 and 1992. She also played for the Bruins' women's soccer and tennis teams, and is the only female three-sport letter-winner in UCLA history, according to her biography on the Hawks website.
Schroeder graduated in 1994, earning her bachelor's in sociology with an emphasis in psychology.
She previously served as the head coach for University of California Santa Barbara's softball program from 2002-2007, collecting 173 wins while turning the Gauchos into an annual contender for postseason play. Schroeder led UCSB to a 34-22 record, the best overall record in school history and earned the Big West Conference Co-Coach of the year honor in 2002, according to her biography on the Hawks website.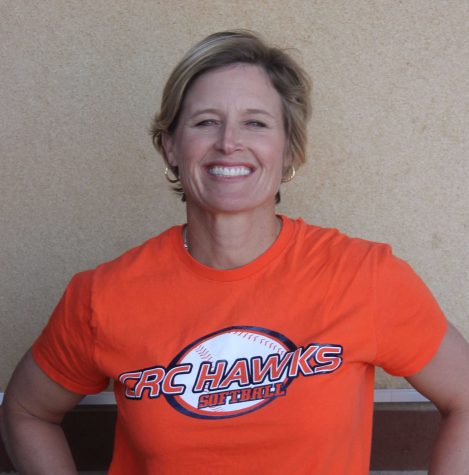 "I really enjoy the coaching part," Schroeder said. "The player-coach development part with my girls."
Sophomore pitcher and third baseman Amanda Horbasch  said that Schroeder's success inspires her.
"If she was able to do it while playing softball, that lets me know there's a chance," Horbasch said.
Kaitlin Pires, a freshman second base and shortstop, said that for her first year playing college ball she really appreciates Schroeder's coaching style.
"She is really close with all of us and understands us all," Pires said "She connects with us not only on the field, but she always tries to help us with our personal lives as well."
Pires said that she likes the fact that as much as Schroeder is her coach, she is also someone that she can go to to talk about anything.
Schroeder said that she has a rewarding personal life in addition to her coaching career.
"I have two kids, and I am really involved in their lives," Schroeder said. "I coach my daughter's softball team and help my son out with his baseball team, where my husband coaches. I love watching my kids play their sports."
When she isn't spending time with her family, the coach said she has other pursuits.
"I enjoy painting when I get the chance," Schroeder said. "I haven't had the time recently, but I do enjoy it. Also traveling. My husband works at Pacific [University] and he takes his students every year to Europe, and I am able to go with him."
Leave a Comment