Men's basketball coach still passionate after 11 seasons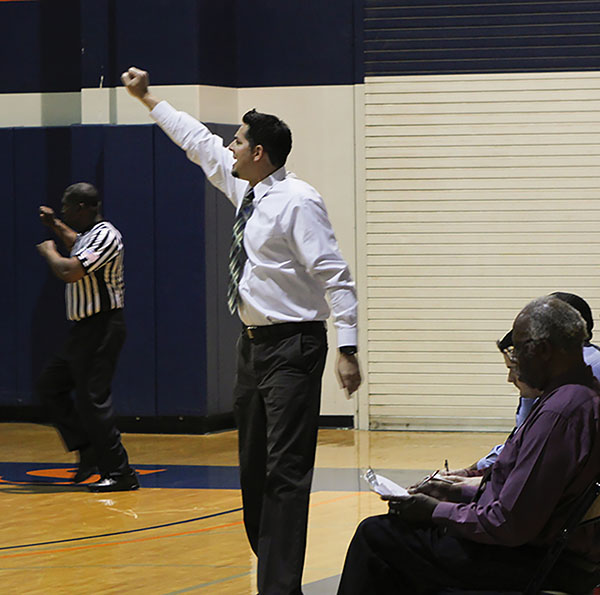 With 23 wins, eight losses and a conference win under their belts the Cosumnes River College men's basketball team has completed an impressive season. While the feat of the players is important, every team needs a leader that can inspire them to greatness.
For the CRC team it's their head coach James Giacomazzi, who has been coaching the men's team for 11 seasons.
"We're only as good as our team's depth and I think we had a good depth this year,"  Giacomazzi said. "We had better depth this past year I'd say than the year before."
With previous coaching experience at San Jose City College and a master's in kinesiology with an emphasis in Human Performance/Sport Management from California State University, San Jose, Giacomazzi came to CRC in 2004, according to the Hawks website.
During his time at the college, Giacomazzi has averaged 20 wins a season, according to the Hawks website.
Giacomazzi said that he has started preparation for next season by getting his freshmen players in a leadership role. He said he is looking for players that will challenge his team to play their hardest.
Giacomazzi has a reputation on the team for being persistent in bringing out the best in his players.
"He always wants to bring the best out of us," said sophomore guard Phil Randles. "He pushes us to play hard and he can tell when you're not bringing it."
Freshman center Donald Mims said he enjoys working with Giacomazzi.
"He will work with you when he sees potential," Mims said. "It's very good working with him; he's knowledgeable and wants you to go somewhere."
Looking towards next season, Giacomazzi said he is most excited about  continuing to work with his coaching staff; Charles Wilder, Nicholas Podesta and Jonathan James.
Giacomazzi and his assistant coaches have been together for years and have a strong bond.
"When you're at this level, very few programs have the continuity and coaching staff that I've been fortunate enough to have,"  Giacomazzi said. "Our camaraderie is one that is really positive so I look forward to it year in and year out."
The players as well as assistant coaches agreed that Giacomazzi is known for holding his team accountable, and they wouldn't want it any other way.
Podesta said that through the leadership of the coach, the team continues to improve, grow and make improvements practice by practice.
"James is an educator first," Podesta said. "When he works with these kids, it's like a classroom environment."
While the players and assistant coaches all had praise for Giacomazzi as their coach, Giacomazzi said they're all in it together.
"We're all kinda pulling the rope together," Giacomazzi said. "I think your program is only as strong as your staff and assistant coaches."
Leave a Comment