Men's soccer falls short against San Francisco
The Cosumnes River College men's soccer team lost 3-1 to the City College of San Francisco on Sept. 13.
After starting off the season with 3 losses and 2 ties, the Hawks continued to put up a fight in hopes of winning the first game of the season at the last day of the Nor-Cal Community College Showcase.
"We have to win this," said 18-year-old goalie Shoneel Kumar.
Starting the game with a lot of pressure on the ball, the Hawks missed on connecting the ball to make the goals. After the game paused a few times because of players injured from CCSF, the Hawks attempted shots at the goal. By halftime CCSF was up 2-0.
"We made a lot of mistakes on the field that costed us goals. We've got a lot of individual talent, our chemistry has gotten a lot better," said 19-year-old forward Alejandro Renteria. "Hopefully we get on the right path soon."
Players ran drills during the half with Assistant Coach Brandon Evangelista.
"We weren't connecting as well, made mistakes on defense," said 18-year-old defensive player Greg Gulseth. "We just need to be better and attack."
During the second half, the Hawks attempted three shots at the goal back to back.
"We attacked well. We played really hard," Gulseth said.
More pressure on the ball  drove the Hawks to their first goal, made by Renteria.
"We have a lot of energy. Everyone wants to win, everybody goes after every ball," said 18-year-old midfielder Juan-Carlos Flores. "It's just a matter of following up."
As the game came to a close, the Hawks continued fighting for a goal.
"One of our strengths so far is strong communication. We haven't really found anything too big to build on," said 21-year-old team captain Fernando Meza. "That perfect pass that we need to make isn't there yet."
Head Coach Ron Preble gave the team individual feedback after the game. He stressed that the team gets decent scores but plays with confidence with no substance.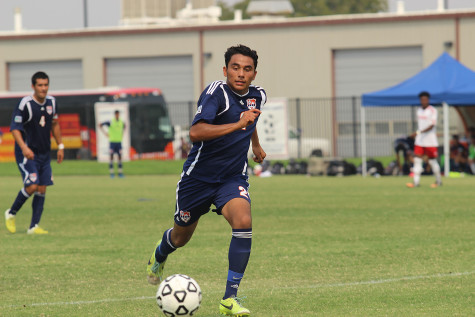 "We're coming in at second half stronger, I feel like we're a second half team," Meza said.
Leave a Comment