Men's soccer drops close game to Taft College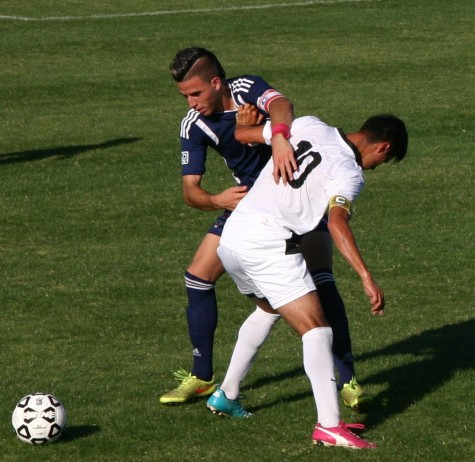 The men's soccer team played Taft College on Friday, but were defeated 1-0.
The entire game was fast-paced and physical. During the first half, both the Hawks' and Cougars' defenses were at a stalemate.
"It was a strong first half and we had our chances," said Hawks' defender Jose Torres. "The second half, we played their game," Torres said.
The Hawks were able to use their aggressiveness to pressure the Cougars' defense during the first half and attempted three goals but to no avail.
The Cougars were also able to attempt two goals during the first half, but were denied by the Hawks.
With about 12 minutes left in the first half, the Hawks came close to scoring a goal, but the ball was kicked out of bounds.
"We fought hard and played strong. It was a good tune-up going into conference," said Hawks' center-back Jacob Schanning.
The Cougars scored their only goal due to a penalty kick in the second half. There was another close attempt by the Cougars with 10 minutes left, but was halted by Hawks' goalie Asad Sohall.
Torres said the penalty kick could have gone either way, but he disagreed with the call.
In the last 10 minutes of the game, there was a state of urgency and the Hawks continued to bombard the Cougars' defense.
The Hawks' offense passed the ball efficiently and slipped by the opposing team. However, the Cougars' goalie prevented any potential game-tying goal.
The Cougars' defense held the Hawks at bay during the remainder of the game.
Head Coach Ron Preble said his men performed really well against a good team, "I think we could have stolen a tie," Preble said.
Preble said his team could improve on recognizing spacing and getting into their designated spots next time they play.
Overall, Preble said he is happy with how his team played.
The Hawks will play another home game on Oct.13 at 4 p.m. against Fresno.
Leave a Comment