Women's soccer drops conference game to Sierra College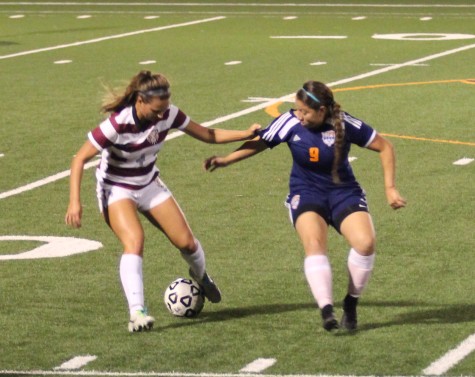 The women's soccer team played Sierra College at home on Oct. 22. CRC lost to Sierra with a score of 0-3.
After a game with American River College a week previous, the Cosumnes River College Hawks faced off against the Sierra College Wolverines.
The Hawks made valiant efforts but came short during the game.
"We didn't play very well. A little bit flat." Said CRC head coach Cesar Plasencia.
With 45 minutes on the clock, the game began with both teams making an attempt to gain control of the ball.
Breaking through to make a shot proved a challenge for the Hawks in the first half. At 20 minutes and 45 seconds on the clock, the first goal was scored by Wolverines' forward Alyssa Rapisura.
Four minutes later the Wolverines lost defensive midfielder Milana Wolsleben to an in-game injury to the arm, when she and CRC Hawks midfielder Kate Burkhardt came into contact.
"Me and number four were going for a ball and she [Burkhardt]  just shoved me and I just landed on it." Said Wolsleben, who was taken out of the game.
At six minutes and 25 seconds, and nearing the end of the first half, the Wolverines scored a second goal by Rapisura. The first half ended with the Wolverines on top with a score of 2-0.
With 22 minutes left in the second half, the Wolverines scored the third goal scored again by Rapisura.
Falls and injuries were prevalent as the night led into the second half. Both the Hawks and the Wolverines struggled to stay on their toes, as the women made frequent collisions and bumps with each other.
The Wolverines lost defender Kyli Olesen out with an injury to the leg after colliding with Hawks' defender Taylor Arlin with just 15 minutes left in the game.
The Hawks lost with a final score of zero and the Wolverines three.
"They were good and when you have a bad night against a decent team this is what happens," said Plasencia.
There was no real "big steps" in the Wolverines game playing that night, said Sierra College's assistant coach Brendan Dunne.

Leave a Comment