Hawks' softball team shuts out Modesto College in conference opener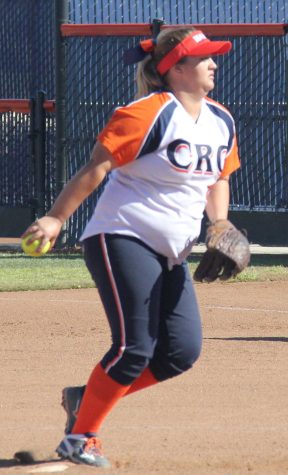 The Hawks' softball team played their first conference game of the season on Tuesday, defeating Modesto College 8-0 in five innings.
The conference game was originally planned as a double-header against Santa Rosa on March 12, however, due to poor weather conditions the game was postponed until March 15.
Even so, head coach Kristy Schroeder said that she expected the women to come with high energy into the game, and was glad that they started the game with a solid five runs.
"We got rained out this weekend, so we took a few days out," Schroeder said. " and really it [strategy] was just come out and play our game, because we've been playing really well all season long and we wanted to keep that going into conference."
The first inning was dominated by the Hawks, respectively. They worked their way to five runs with the help of RBI's from sophomore catcher Raechel Hooper, freshman outfielder Lindsay Lambert and sophomore shortstop Brenda Velasquez.
Cosumnes River added two more runs in the fourth inning, thanks to a two-run single by freshman pitcher Aimee Hutchinson, to give the Hawks a 7-0 lead.. Hutchinson also started on the mound for the Hawks, throwing five shutout innings
Freshman utility player Courtney Beatty increased the team's lead to 8-0 in the fifth inning on an RBI single, driving in freshman outfielder Alexus Acosta. The game was called immediately after the run scorer, with the mercy rule going into effect.
After the win, some of the players reflected on their improvements and setbacks, and expressed high hopes for the Conference
"My snaps were just not on today," Hutchison said. "Just on my curveball today though." Although, Hutchison also said that the expectations for the conference were high if they make it to Bakersfield where sections would be held.
Likewise, Velasquez said that the game played today was slightly different from others.
"Today was a little different , because we usually play two games instead of one game, so today was just one" Velasquez said. " usually we would need more energy to go strong in the second game as well."
However, she expressed the expectation for the game against Santa Rosa.
"I was just telling one of my teammates, like this team right now that we just beat, that you hear that you know maybe they're not so good or they're last place in their league, or whatever it may be," Velasquez said.
"No matter what you always got to play hard, every team, play hard, play hard because any team can beat any team, it's all about going out there and keeping your energy up at all times," She said.

The Hawks defeated Santa Rosa in the makeup games on Thursday, winning both games. They won 7-6 in the first game and 4-3 in the second game, improving their record to 19-3 on the season.
Cosumnes River will next play on Saturday in a double header against San Joaquin Delta College at 12 p.m. and 2 p.m.
Leave a Comment