Freshmen athletes bring new life to their teams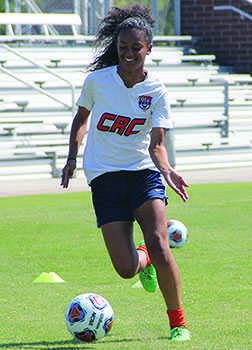 Most freshmen students usually get time to adjust to their new surroundings after their classes are over, but freshmen fall athletes don't often get that luxury.
The freshmen athletes coming into Cosumnes River College start meeting their new teammates and coaches over the summer.  It provides a few weeks to focus on athletics before they have to find the balance between the field and the classroom.
There are many new faces across CRC's sports teams for the fall semester, with student athletes from across the area joining the Hawks. Following a two-win season last year, the men's soccer team saw profound changes to its roster.
Entering the season, 17 of the 25 roster spots on the team have been filled by freshmen players.
Midfielder Enzo Leon, who joined the Hawks from River City High School, chose CRC because of the caliber of the program it offered. "It was a better soccer program," said Leon. "It was better than ARC and Folsom Lake, so I just went with the top program."
Leon is looking forward to playing with his team and hoping to compete for the Big 8 conference title. Like the men's soccer team, the women's soccer team has a roster stacked with freshmen.  They're paired nicely with several experienced players from last year's playoff team.
Entering the season, the team has 16 freshmen on its roster of its 23 players this season. Freshman center Averen Calvin, who played high school soccer for Sheldon, has already experienced some memories in her short stint with the team.
"Beating Santa Rosa. It was tough, aggressive, and everybody was fighting hard," Calvin said.
Santa Rosa's soccer team was ranked No. 4 in California at the end of last year by the California Community College Athletic Association rankings. In addition to playing soccer for the Hawks and being a student, Calvin does her best to balance it all with her busy schedule.
"I try and give myself a good amount of sleep," said Calvin. "You just have to give yourself a schedule." Center back Lauren Azevedo, from Franklin High School in Elk Grove, found a home at CRC when other schools didn't impress her.
"I felt that CRC would be the best fit for me especially because I wanted to continue my soccer career," Azevedo said.
"I never really felt any of the colleges that gave me interest throughout high school and financially, it was a smarter decision for me and my family," she said.
She also has a job outside of being a student and athlete. Azevedo suggests to take advantage of the free time you're given, so that the work doesn't stack up before you have your next class session.
The women's volleyball team, which has a new coach, also has five of its nine roster spots occupied by freshmen this season.
Outside hitter Erica Valencia, a Galt High School graduate, is excited to be playing volleyball again after she took some time away from the game. "I stopped playing volleyball my junior year of high school," said Valencia.
But Valencia has now returned to the court and said she found it to be a good opportunity here as a freshman. Now that Valencia has returned to the volleyball court, she is back to living her passion and is also focused on the future.
She dreams of playing volleyball at Sacramento State in the future in large part because of their nursing program, which is what Valencia's career aspiration is.
Middle hitter Meg Maddalena, a Portola High School graduate, moved here because her aunt lives in the area. After she looked over the local colleges, Maddalena found CRC to be the right fit for her both as a student and an athlete. "This was my favorite campus between all of the JC's in the area," Maddalena said.
Freshman athletes make up a large majority of the teams this semester. This fall, 38 out of the 57 athletes are freshmen, according to the CRC Hawks website. It makes for a lot of students who are all learning how to balance their time between the classroom and the field.
"It's prioritizing and finding balance," Valencia said.
Leave a Comment