Sophomores recognized for leadership, work ethic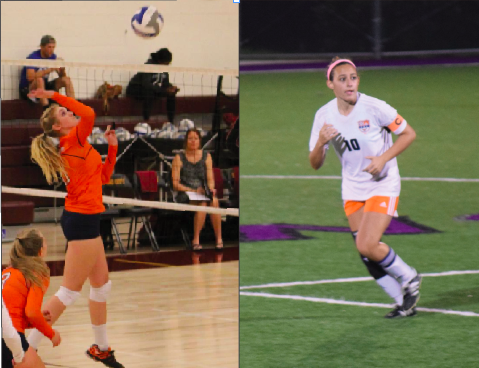 As the 2016 fall athletics season comes to a close, a few Cosumnes River College athletes were recognized  for their general excellence.
Athletes who demonstrated tremendous work ethic on and off the field and were committed members to their athletic families were recognized.
Among the athletes recognized was women's soccer player Anna Ottley.
The sophomore forward, majoring in liberal studies, was recognized by head coach Cesar Plasencia for her dedication to the team, academics and the work she puts in and role she plays as a sophomore.
For Ottley, the recognition held special meaning because of her own personal goals and focus on hard work.
"It means a lot!" Ottley said. "I've always strived to work hard in everything I do."
"I also know that being on a team means that you are like a family and I would never leave my team or any of my teammates behind," she said. "So it means a lot knowing that my coach recognized that."
The sophomore lives by the motto of always giving your best and it's something she applies everywhere she goes.
"I've always been taught to give 150% in anything that I do whether it's soccer, school or a job," Ottley said.
"Being there for my teammates is just as important because if we're all there for each other, then our team chemistry is that much better, which means we'll perform better on the field."
Ottley, who has a cumulative 3.76 GPA, learned to balance her schedule in high school as an AP student and athlete.
"It's definitely a challenge but playing soccer over the years and taking AP classes in high school," Ottley said. "I have learned how to manage my time to make sure that I get everything done that I need to help maintain a good GPA.
Another athlete recognized was Hawks volleyball player Hannah Norris, nominated by head coach Kari Post.
"I chose Hannah because she has a great work ethic," Post said. "She's one of the best competitors on our team and one of our most valuable players as well as academically."
"She has done amazingly. She has a 3.5 for the semester and a 3.2 overall which is a great accomplishment."
Norris, a sophomore middle hitter,  was appreciative of the recognition from her coach. "It makes me feel really appreciated that all my hard work hasn't gone unnoticed," Norris said.
She hopes the work she put in made a difference for others as well.
"I really hope my efforts have made a difference not only to myself, but also to my teammates on and off the court," she said.
Post spoke to Norris's commitment to the team every single day, the effort she always gave and her versatility to play multiple positions for the team.
"She came to practice ready every single day. She was not only able to outperform her teammates, but she went after every ball and played two different positions," Post said.
"She was never unwilling to play another position and take over more responsibility," she said. "With that attitude, she was able to work hard to get to the best she could."
To be recognized for her work ethic especially, carried special meaning for Norris.
"Work ethic is very important to me, I think being a hard-worker is one of my best traits," she said.
But it was even more meaningful for her to be recognized as a good teammate.
"Being a teammate is more important to me though," she said.  "I care so much for my team and I would do anything for them."
In her sophomore season, Norris has navigated a busy class workload with practices and games.
For Post, it's important to her that her players remain focused and perform academically, so she likes the progress Norris has continued to make this season.
"Volleyball is not the most important thing in the world, but progressing academically is going to help her in the long run," Post said.
Norris, an agriculture business major, is taking 19 units this semester with  health, history, statistics, agriculture business and philosophy class.
With a schedule that includes five classes, nine hours of practice each week, four-hour games with warmups and film study, in addition to studying six hours in the study center and four at home, it's all about managing time for Norris.
"It's all about working hard and time management," she said. "I always keep in mind my goals and knowing I can achieve them helps me keep my priorities in line."
These are lessons that Norris has worked to teach younger players who she works with to put them in better position to succeed, now and in the future.
"When I coached my 12's and 16's, I always tried to enforce that you don't only play for yourself, you're playing for your team,"  Norris said.
"It creates a sense of unity upon them, and along with always working hard, they will succeed," she said.
While the season is over for both athletes, the traits bode well for success in the future.
Leave a Comment