Hawks prepare for next game after early victories
The men's baseball team is readying themselves for their next game after taking back to back wins against Shasta College on Jan. 24 and 25.
The Hawks matched their success against the Knights last year, beating them 10-6 on Jan. 24 and 6-2 on Jan. 25. Head Coach Don Mico said he thought the team did well.
"We can still improve our pitching, as well as playing a little more defensively," said Mico. "They weren't bad for their first two games as a new team."
Freshman infielder Jack Painter and sophomore infielder Henry Dagnan were also positive about the team's performance.
"We managed to do some good things last game," said Painter. "We're always looking to improve and hope to use this momentum."
In the 2019 season the Hawks finished up with a record of 25 wins and 20 losses, starting out strong at the beginning of the season but struggling a bit near the end. Mico attributed this to injuries plaguing the team.
"The team ended up getting hurt pretty badly before the league started," said Mico. "We never ended up getting that health back."
This season the team is mostly made up of new players, said Mico. In the transition from the 2019 season to the current, only one of the two players on the team carried over to the new season, with the rest of the sophomores being transfers.
"We had a lot of veteran presence last season that isn't here anymore," said Mico. "We have a really, really young team this time around, probably the youngest we've coached."
Of the players on the team this year, Mico pointed out several he thought showed promise going forward. This included freshman infielder Brycson McArn and sophomore pitcher Owen Hunt.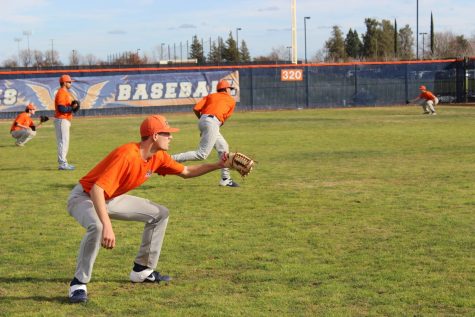 Mico said one of the goals for the beginning of the season was to improve the overall teamwork of the players. He hopes that by the end of the season they are playing at their very best.
"We're playing the hardest league in NorCal with the Big 8," said Mico. "A team who wins the Big 8 usually has a strong chance of winning the state championship."
Sophomore outfield Brett Graber, said the state championship is one of the team's goals this year, alongside getting better at working together.
The Hawks next home game will take place on Jan. 30 on Conway Field. The team will be taking on the Mendocino Eagles, who they managed to win against last season in an 8-3 game.
Leave a Comment