Women's basketball shows improvement but fell short to Modesto College Pirates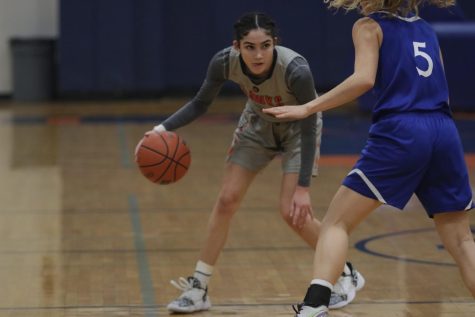 The women's basketball team fell to a 6-21 overall record after losing 63-49 to the Modesto College Pirates on Thursday.
As a result of the loss, the Hawks still remain winless in conference games with a 0-13 record and have now lost 7 games in a row. 
Although the Hawks lost this game and continued their recent slump in the final stretch of the season, Head Coach Coral Sage said that this game was a major improvement from the recent games they have played in.
"I felt like at least today we put 4 quarters together even though we didn't end up winning," said Sage. "At least we didn't have that huge drop off like we've been having."
Sophomore guard Arionna Butts finished the game with 16 points, 7 rebounds, 4 assists, and 12 free throw attempts, leading the team in each respective category.
Butts said her physicality along with her confidence from the free throw line is what enabled her to be most efficient on the court.
"I'm not the best at finishing around the rim," said Butts. "I'm a better shooter than I am a layup finisher so I try to get to the free throw line as much as possible"
The highlight of the game for the Hawks came near the end of the first quarter when freshman guard Neveah Glaindo made an and 1 three pointer from the right corner.
"It was pretty cool because that was the first time I got an and 1 three, and I made the free throw so even better," said Glaindo.
The Hawks play their final game of the season on Feb. 21 against Santa Rosa Junior College where the Hawks will have one final chance to get a conference win on the season.
Sage said she is feeling confident going into sophomore night on Feb. 21 given that the team put up a great game against Santa Rosa last time they played.
"We just gotta tighten up a few things and take care of the little mistakes that we have, that's our game to win," said Sage.
Leave a Comment