Men's basketball fall just short in season ending nail bitter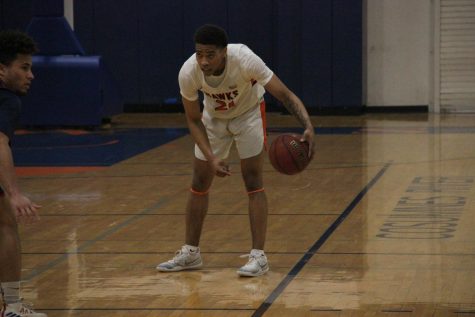 The men's basketball team fell just short in their season ending game against the Santa Rosa Junior College Bear Cubs on Friday with a final score of 80-79.
With the last game of the year under their belt, the Hawks conclude the season with an overall record of 9-19 and a conference record of 3-13. 
Although the Hawks came up just short of ending their season on a high note, Head Coach Jonathan James said he was satisfied with how his team closed out the season.
"Santa Rosa is a really really good team but we always play them tough," said James. "I knew it would be a good challenge for us and that our guys would be up for the challenge."
James made it a point to send off his players with their heads held up high after their season ending loss. 
"You can always walk out of the locker room or walk anywhere when you fight," said James. "You know you win some you lose some but as long as you fight, that's all that matters."
The last game of the season was also Sophomore Night where sophomore guards Brandon Gray, Terrell Garner and Kenneth Cooley were sent off the court with their families and teammates by their side.
Gray said he was proud of the way his team played and that his family being there meant a great amount to him.
"It was a great feeling because my family means everything to me," said Gray. 
With the season coming to an end, freshman guard Andre Huddleston is looking forward to the upcoming season.
"We're coming in strong next year," said Huddleston. "We're looking to be the number 1 seed next year."
James added to the amount of confidence that the Hawks have for the upcoming season and said he is expecting great things.
"Being heavy on the recruiting trail, we'll definitely be on the other side of the record in the standings next season."
Leave a Comment