Hawks lose in first conference game of the year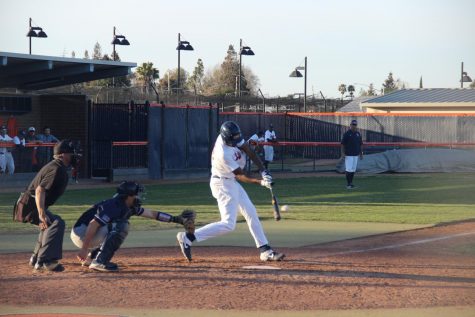 In a high scoring affair, the Hawks baseball team lost to the American River College Beavers on Tuesday with a final score of 14-10.
Sophomore pitcher Owen Hunt got the start against the Beavers and entered the game with a 1-0 record and a 2.60 ERA. Hunt was unable to find his command on the mound lasting only two and one-third innings, giving up six walks and four earned runs.
The Hawks offense was able to keep up until the top of the fifth inning where the Beavers ran away with the game, putting up seven runs and taking a 13-4 lead.
Although the Hawks pitching wasn't at its finest, assistant pitching coach David Smith said that their seven errors throughout the game was the main factor in the loss.
"You're not gonna win competitive baseball games with that many errors," said Smith.  "We walked a lot of guys too."
The Hawks were able to gain momentum late in the game, putting up five combined runs in the seventh and eighth inning. Smith said that this momentum was a bright spot in the game and hopes that it carries over into their next game against the Beavers.
"I thought what was big for us today was that we got some momentum back and started making them go to their bullpen," said Smith. "So hopefully we can come out ready to play on Thursday."
Freshman right fielder Lakeal Morris was the offensive spark for the Hawks today as he finished the game with five RBIs and three hits. Morris said that he and his team did a great job at keeping them in the game.
"I think our pitchers did a really good job of keeping us right where it was and even though we lost, we had a lot of at bats where we were able to capitalize and get some people in," said Morris.
This was the Hawks first of a three game series against the Beavers. The Hawks will travel to American River on Thursday, and return home to play the final game of the series on Friday.
Morris said that he looks to keep his hot bat rolling against the Beavers by "trying to drive the ball to the right side of the field" and by "putting the ball in play." 
Leave a Comment