Infielder's early surge leads to promising start for team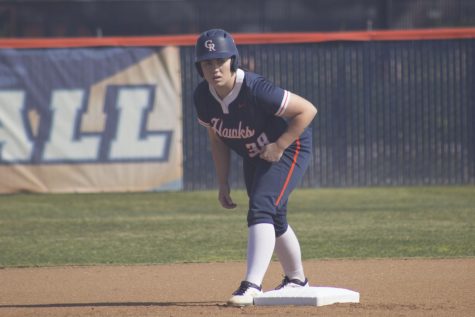 The Hawks softball team is off to a fast start this season producing an overall record of 11-5, batting well over .300 and slugging .481 collectively in their first 16 games.  
Batting in the cleanup spot of the potent Hawks lineup though is freshman third baseman Mckinzie Spriggs, who currently leads her team in extra base hits and RBIs while slashing .400/.446/.740. 
Already with two home runs on the year, Spriggs's dynamism at the plate comes to no surprise for her as she said she tries not to press in the batter's box. 
"I try to go up there with a don't care kind of attitude," Spriggs said. "I just get up there, breathe, and go for it." 
Head Coach Kristy Schroeder alluded to Spriggs's plate discipline when citing her as a successful hitter for the Hawks. 
"At the plate, she's been having fantastic at-bats," Schroeder said. "She's swinging at good pitches, she's driving the ball hard almost every time so she's just giving herself a great chance to succeed." 
The irony of it all is that the power hitting Spriggs did not intend to play softball at the collegiate level after a brief stint at Sacramento City College. 
Spriggs said she was unsure about playing after trying out for the SCC Panthers and she would have stopped playing altogether had it not been for her friend and teammate, freshman first baseman Danielle Pfenning. 
She expressed appreciation for Pfenning for encouraging her to stay the course, describing her experience with a Hawks as "a lot better." 
Along with her intensity on the field, Spriggs's ambition translates over into the classroom as well. 
"She's very determined to make sure she's doing well when she's playing or in school," Pfenning said.
Although she isn't opposed to playing at the Division I level, Spriggs has made it clear that her education takes precedence over softball. 
"I've given it a lot of thought and schooling does come first," Spriggs said. "I wouldn't mind playing somewhere else but schooling is my top priority."  
Spriggs attributes both her academic and athletic success to friends and family, crediting her father for pushing her to be the best student athlete she could possibly be. 
"I'm grateful for friends and family, my dad for sure," Spriggs said. "He's pushed me to be the player I am today."
Leave a Comment