Volleyball blocker looks ahead despite postponed season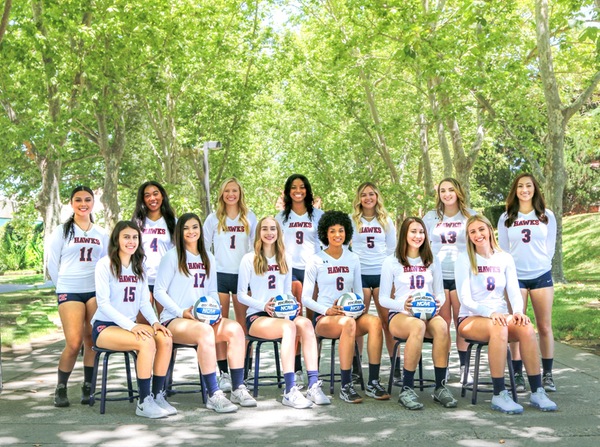 Nineteen-year-old kinesiology major Miah Williamson has been playing volleyball since 2012 and has used her experience to help the Hawks earn victories for a year now.
Williamson played in all 27 of the women's volleyball team's matches last season and was able to get 249 kills, had a .335 hitting percentage and managed to get 74 blocks.
During her volleyball career, she has participated in both club and school volleyball throughout her 8 years of playing the sport and plays the middle blocker position.
"Club volleyball would end and then a month later, school volleyball training would start so I basically played volleyball year-round," said Williamson.
Playing year-round volleyball allowed Williamson to get exposed to many different athletes and coaches.
"Our program is a two-year program, junior colleges are two years, so I've had her for one year and she'll be having her second season with me this year," said Kari Nahlen, women's volleyball coach.
Because Williamson is in her second season at Cosumnes River College, she's beginning to look at other options to further her athletic career.
"I'm looking at a lot of out-of-state schools, it's up in the air," said Williamson. "There's a school in Kansas that's my top choice, I met with the coach and I might go and visit there."
Along with McPherson College, Williamson is also looking at other universities with the help of her coach.
"I talked to coaches, they contact me for players that I have which makes it a networking game essentially as well as finding schools that will fit each person," said Nahlen.
In Nahlen's position as a coach, she not only has to guide athletes but also recruits athletes for her team and finds their perfect fit for when they advance in their collegiate career.
It requires a lot of networking, speaking with other coaches from different universities, and then connecting those coaches with the athletes.
"Some people may need a smaller community and some people, need a bigger school in order to thrive," said Nahlen.
Williamson's goal of continuing to the next level for her sport requires a strong work ethic, said Nahlen.
"Miah on and off the court has always been a hard worker," said Nahlen. "She has a very high I.Q. when it comes to volleyball because she sees everything really well on the court which makes her a better player but she really works hard at being able to have that volleyball I.Q. that sets her apart from everyone else."
Nahlen said on the court, Williamson motivates her teammates, whereas off the court she's more academically focused.
Charissa Pham, an 18-year-old libero explains Williamson's qualities from a teammate's point of view.
"Even though she seems quiet she is so fierce and so strong on the court, she has also strengthened her leadership by giving her input, analyzing the game pretty well, and making sure that she communicates that to everyone, said Pham.
The team hopes to return to the court this spring.
https://www.instagram.com/tv/B_awu4_l7EP/?utm_source=ig_web_button_share_sheet
Leave a Comment