Black History Month celebration continues through poetry
Cosumnes River College's series of events celebrating Black History Month continued with "Poetic Voices," a poetry event held in the Recital Hall on Feb. 19.
"Poetic Voices" featured three local African-American poets, who all shared original pieces that represented themselves along with the history of their culture and heritage. The event began with an open microphone invitation to the audience, followed by poet  M.E. Miller.
"If we could go and visit slavery again, take a timeline or a vessel to that place in time most of us, after five minutes, our hearts would just break, and we would get back on that ship and never ever return to that place again," Miller said. "That is how devastating that experience was."
Miller, whose full name is Michael Ellis Miller, is a published American author and poet with a background in journalism. Miller has several honors and recognition for his works in short stories and poetry, as he reaches out to the all in his words, referring to himself as a human poet rather than a black poet, according to the event program.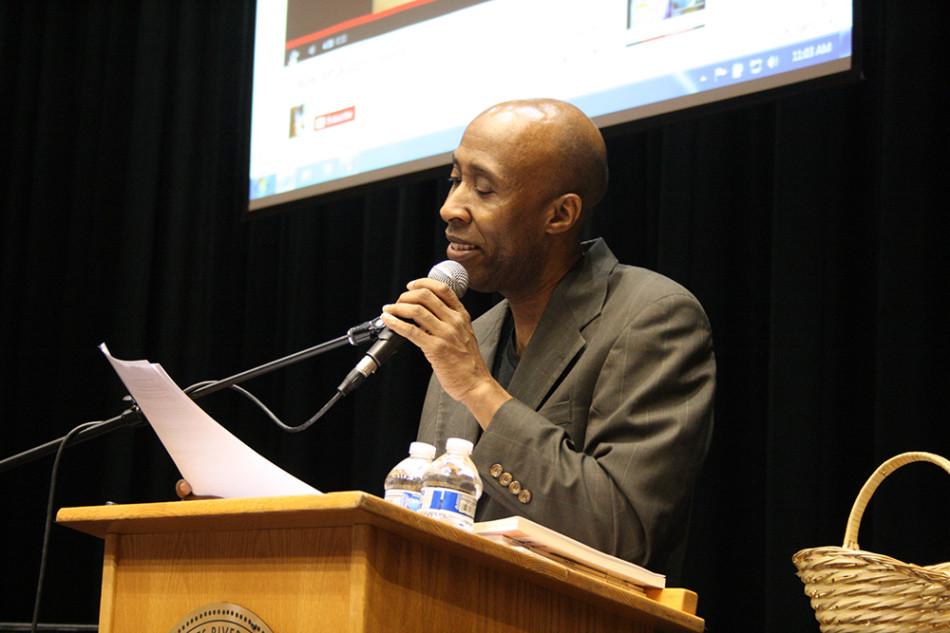 During his performance, Miller began speaking in the tongues of the slave culture of the past, as the audience sat listening in silence.
"My favorite piece was probably 'I've Known Rivers' by Langston Hughes," Miller said. "Langston and I have a strange tie."
Miller has often been compared to American poet Langston Hughes in terms of writing style, according to the biography in the event program. He even included a piece composed by the late poet during the event.
"In high school and before I even really knew about him people were telling me 'You're going to be the next Langston Hughes' and it was something I didn't ask for, but it was something that I kept hearing," Miller said. "Everywhere I read that name and after 20 years of running from that legacy, because I didn't want to wear those shoes, I just finally started to embrace it."
Miller has also written a book titled "Goodbye Langston."
His performance was followed by poet Anna Marie Sprowl.
Sprowl has been a writer of poetry and has been involved in performances for years. Sprowl said her life experiences are the basis of her expressions and she engages audiences with her passionate  readings.
"I have always written," Sprowl said. "My whole life I knew I wanted to be a writer and I have a lot of emotions and it's an outlet."
Sprowl read from her poem titled "Jump." Inspiration and taking a leap of faith were key points in Sprowl's piece.
"Don't be afraid to let your passion guide you," Sprowl said. "Take a leap of faith go out on a limb and if it breaks, just, jump."
The event's third speaker was Sean King. King said he is a computer geek who simply loves life.
An activist and a dreamer with three published writings, King gives back to the community as a mentor of youths, here in Northern California, according to the event program.
King's first reading was a tribute to Dr. Martin Luther King Jr.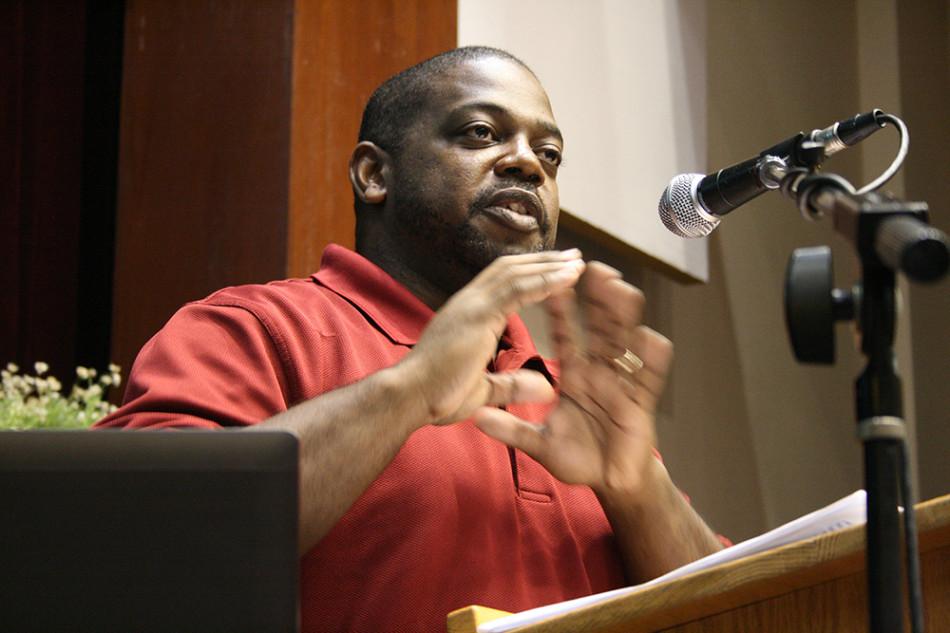 "You cannot assassinate a spirit, you can only kill a man, the only thing that can kill Dr. King is we," King said.
King also spoke of where he finds inspiration.
"Frustration," King said. "I would say growing up in Bakersfield, there was a lot of racism and so that was a way for me to basically deal with that, as opposed to always being upset or being down."
King said he took to writing as an outlet to channel those frustrations instead.
There was on more poet, from the audience, who felt inspired enough to come up and participate.
Janayla Wysinger-Rasco, an 18-year-old mass communications major, made her way to the stage and recited a poem she wrote.
"What inspired me is music, I love music a lot," Wysinger-Rasco said.
She said that her favorite piece from the event was in fact the "Jump" poem recited by Sprowl.
" 'Jump' really hit me, it really shows like with my poem and our generation we all need to jump," Wysinger-Rasco said.
The poetry reading ended with English Professor Emmanuel Sigauke honoring each of the three professional poets with a framed version of one of their performed works.
Faculty and students have the opportunity to attend future events as Black History Month continues throughout February.
Leave a Comment