Guest Artist Series music event showcases soprano and pianist
The Guest Artist Series event was held in the Recital Hall on Jan. 28 featuring the soprano, Rena Harms and the pianist, Anyssa Neumann. 
Harms has quite the impressive and detailed music background as a solo artist and has been recognized by the San Francisco Chronicle for a "winningly liquid" voice. 
Harm has been a part of a variety of operas from being apart of Madame Butterfly productions at English National Opera, Arizona Opera, Opera San Luis Obispo and Opera Theatre of Saint Louis. 
Neumann grew up in Sacramento, Calif. but is now based in the UK and has been recognized as producing performances with "clarity, charm and equipoise." 
Neumann performs both as a solo artist and has a collaborative background as well, ranging from the Baroque to the 21st century. 
Their performance included four various sections of songs by Arnold Schoenberg, Ralph Vaughan Williams, Richard Strauss and Samuel Barber. 
Their finale was an unpublished song called "Evening Star" by George Gershwin which was performed to finish off their performance right before they decided to have an encore. 
Kurt Erickson, the music department chair for Cosumnes River College, said that the Guest Artist Series is an event they have held for about four to five years now. 
Erickson said they usually try to have a range of artists that come to perform at our campus, much like how Harms is from the east coast and Neumann lives in the UK.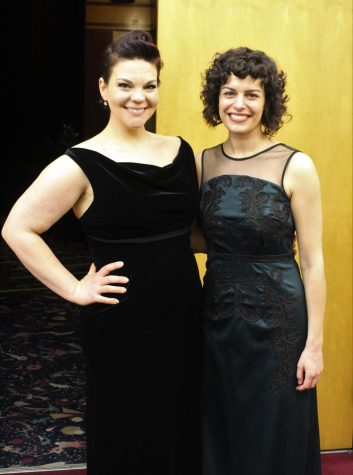 Jennifer Rimeman, a 47-year-old music major said that she is a soprano herself and she hopes to be singing opera and classical music for the rest of her life. 
"You want to see what else is out there and who else is in your field," said Rimeman. "I love classical music and I wanted to hear it." 
Eliza Ziemann, an 18-year-old student and Kali Honeywood, a 19-year-old theatre arts major said they did choir together in high school and love performances like the one Harms and Neumann gave. 
"It was a requirement for my class, but I really just wanted to come out because I love music and I love exploring different genres of music," said Honeywood. "This one really stood out to me because I've never heard an opera before." 
The members of the audience had the opportunity to meet with Harms and Neumann after their performance for the evening. 
Neumann said they have been playing together for a long time and they were organizing a tour in New Mexico and California.  
"I wanted to come back to Sacramento to play and I was looking for various venues and CRC is one of the places that I wrote to," said Neumann. "Kurt Erickson wrote me back and said "that would be fantastic, we would love to have you", so we came!"  
Neumann said this was their first time on the campus and that her mother used to teach English part-time for CRC, Sacramento City College and American River College. 
Harms said this event was the last stop on their tour as well as their ninth show. 
"We were in New Mexico first and Santa Fe for three and then we have been up and down California, and yeah this is our last one for now," said Harms. 
Neumann and Harms said they will be heading back to the UK and the east coast since they both have things coming up within their solo careers. 
"We had to make a tour happen so that we could actually get together and play together," said Neumann.