Hawks take on Vikings in home game
The women's and men's tennis teams faced off against the Diablo Valley College Vikings to mixed results in a home game on Jan. 30.
The men's team managed to pull a victory against the Vikings in an 8-1 match. 
This marks their first win of the season, having lost their two previous matches.
"Both teams played really well and showed a lot of improvement from their last game," said Head Coach Eva De Mars. "Today was probably the men's best performance so far."
The women's team was less fortunate, losing their match 9-0. The team also suffered injuries, with one player missing the game and another having to forfeit mid match.
De Mars said the girls fought hard in spite of the injuries the team took. While she didn't say the overall results would have been different without the injuries, she said she thought it "would have been closer."
Assistant Coach Leah Stewart said one of the Hawks training goals for the game was to work on teamwork in doubles. This showed throughout the various sets going on, with teammates showing clear communication with each other.
"We did lots of conditioning, doing a lot of running," said freshman server Bianca Henderson. "We re-evaluated what went wrong in the last game, and we've improved our communication."
De Mars named sophomore players Paola Zamora and Gonden Thao of the women's and men's team, respectively, as having strong performances. She noted the former of the two managed to win three sets throughout the day.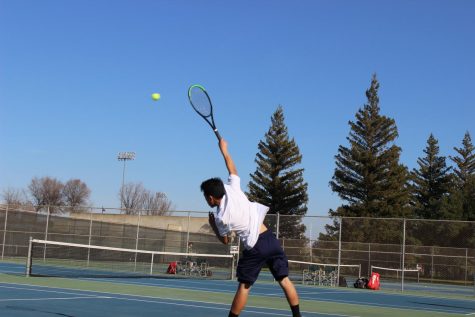 De Mars said the women's team would take time to recuperate from their injuries, cancelling the game against Folsom Lake College on Jan. 31. 
The men's team would come up short in their own match, going 6-3.
The men's next match will be against Mission College on Feb. 7, while the women's team will be playing against Fresno City College on Feb. 11. Both games will be held on campus.
Leave a Comment