Blog: Hawk Gaming Central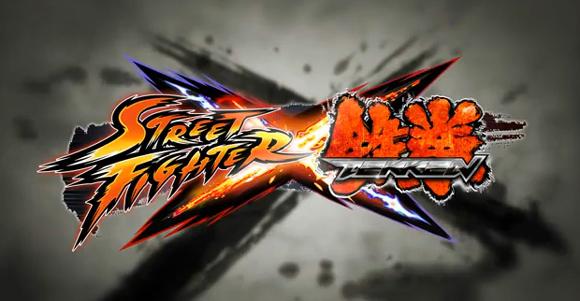 April 17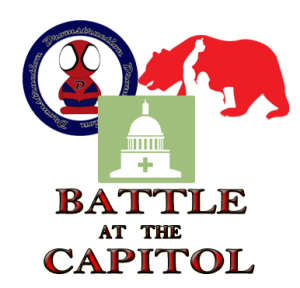 Hey guys, Sacramento will be hosting an upcoming fighting game   charity tournament on May 5-6! COME BY GUYS!
-Carlo
April 13
A Trip To The NorCal Regionals Fighting Game Tournament Day Two
by Carlo Dela Cruz
The second day of NorCal Regionals 10 was more exciting than day one as the best players fought it out for top spots in the finals bracket. I ventured in watching the last matches along with the majority of returning attendees but also continued in playing with others throughout the day.
When I arrived in the morning, there were still setups at the rear like the day before but specifically for top 16 to top eight matches before the final eight compete at the main stage. After with my losses in Street Fighter X Tekken, I didn't want to bother watching the top 16 games and went to see a demo of the upcoming game Skullgirls. Developed by indie company Reverge Labs, Skullgirls is based on the combo-heavy fighting games made by Arc System Works but tailored for the more mainstream fighting game fans. I only got to play a couple of rounds but was liking what I tried so far. There is only eight characters available to play but each are very distinct from each other for variety's sake. The game also uses a team-based system influenced by both Marvel vs. Capcom and Capcom vs. SNK games. You can switch characters on the fly and have partners perform assist moves similar to Marvel vs. Capcom. For the Capcom vs. SNK similarity, a player can have a team of up to three characters that scales in health amount and damage output depending on how many they have.
After trying Skullgirls, I played a little more Virtua Fighter 5: Final Showdown since this will be the last time I will be playing it before its release date in the summer. While Sega officially provided Hori's Real Arcade Pro V-SA sticks for us to play on, I played the game this time on a different stick. It was the Etokki Omni Korean Edition stick provided by Ryan "Laugh" Ahn who came from South Korea to attend NCR. Most sticks nowadays use Japanese parts but like the title, the Omni stick that Laugh had utilized Korean levers and buttons. It was my first experience with Korean parts and they do feel distinctive from their Japanese counterparts. While both types perform exactly the same, the Korean parts are known for requiring more pressure to exert pushes of the buttons and hand movement of the levers. The levers especially are known for having circular ends when moving them, similar to American levers, while Japanese levers are common with square gate ends. I was able to perform my inputs just fine like if I was playing with Japanese parts. Personally, Korean parts slightly have that American hardness while being precise as if it was Japanese.
Along with everyone else, I proceeded to watch the main stage featuring the games' top eight players duke it out. I was definitely the most hype for The King of Fighters XIII and Virtua Fighter 5 as they both were out of the ordinary when compared to Super Street Fighter IV: Arcade Edition Ver. 2012 and Ultimate Marvel vs. Capcom 3. KOFXIII and VF5 had lots of surprises and energetic matches in which the audience were in awe. One of the top eight players for VF played a character that was based on many different throws and everyone who watched it were surprised on how much throws the player was able to successfully execute.
While those two games were out of the ordinary for tournaments, it doesn't mean that the headliners didn't have their moments. For Ultimate Marvel vs. Capcom 3, my friend Martin "Hi Im Nasty" Vega who lives in Sacramento got into top eight. I was rooting for him along with many fellow Sacramento folks when he was on the main stage. He is well known for being one of the best Super Skrull players in the west coast and to play on a controller as opposed to an arcade stick. Martin was able to pull of some surprises with his Skrull thanks to the character's fast and powerful moves. Unfortunately he came out of losers bracket in his match and lost to his opponent Eduardo "Puerto Rican Balrog" Perez. If he didn't make an input error in his match, he would have been able to clutch it out and progress. I would have gone on staged like a madman and hug him for getting this far. I am still happy he got far especially when the brackets were filled with many equivalently capable killers. I saw a bit of SSFIVAE2012 especially when Sun-woo "Infiltration" Lee came from South Korea and dominated the bracket with his skillful Akuma and Gouken. He however lose to NorCal's own Ricky Ortiz of Team Evil Genius. Infiltration though took the first place win in Street Fighter X Tekken but I unfortunately left before it all happened. I did though check the replay and was impressed yet bored of the action in the game probably due to how dull it's played with only two people against each other. With the announcement that SFXT will be 2v2 tag-based at the Evolution finals at Las Vegas, where two players team up and have to coordinate with each other to win, it's going to be an interesting event to watch.
The fighting game community surrounding various topics have been receiving flak and creating a bad image for themselves. Going to NorCal Regionals took me away from the negativity and to a new world that you can't really enjoy behind a computer screen. You get to directly compete and share thoughts among hundreds of others in one spot. It's a special thing that you can't really find anywhere else outside of tournaments or other gatherings. In essence, the experience was magical. It makes me feel proud of being part of the community and it encourages me to stay dedicated and help make the scene better. Competitively, I have been prone to losing my matches against better players. Even if I face defeat, I always want to fight on and I hope to do better at EVO or the next NorCal Regionals because I love the scene.
NorCal Regionals 2012 – NCRX from Kineda on Vimeo.
March 24
A Trip To The NorCal Regionals Fighting Game Tournament Day One
by Carlo Dela Cruz
When there is a fighting game scene in a region, there is a tournament for it where players around the area converge onto one spot to see who is best. Northern California is no exception. Tournament director Terry "Kineda" Ng just held the 10th and best iteration of NorCal Regionals. This major tournament gathered hundreds of players to compete in one or more of the six currently popular fighters before the upcoming Evolution Fighting Game Championships at Las Vegas in July. The event was full of amazing players, upsets, and players getting "hype."
Prior to the event held at San Francisco State University's Jack Adams Hall, I had to register online. Being a major event, I had to expect the $35 registration and the $10 per game fees as NCRX was larger than previous iterations. The only game I officially registered was Street Fighter X Tekken, one of the six games part of the "Road to EVO" season. The other games were Super Street Fighter IV Arcade Edition Ver. 2012, Ultimate Marvel vs. Capcom 3, The King of Fighters XIII, Soulcalibur V, and Mortal Kombat. I was thinking of registering for SSFIVAE2012 and UMVC3 but there were players who would have destroyed me easily as they practiced the game since the original version back in 2009. I also thought of picking KOFXIII but most of the player base in NorCal is situated in the Bay Area and only a handful who play are in Sacramento; there is not enough competition and learning resources. SFXT just weeks before NCRX was a new game and everyone, including me, would be learning how to play it. I also took the chance to sign up for the free Virtua Fighter 5 Final Showdown tournament and see who was good at the game before its summer release.
After the long drive from Sacramento to San Fransico, me and my friends I met up with were waiting out of the Jack Adams Hall. We were all squeezing in to get breathing room while finding where we are in our pool brackets. Since a couple of the games had participants in the hundreds, they separated players into 16-man pools where they have to defeat other assigned players to proceed into the top-32/16/8 player brackets. SFXT was probably one of the biggest since it was new followed by UMVC3. As it opened, it was amazing to see the large hall filled with many chairs and setups for pool play. On the sides, there were multiple stations for people to try out VF5FS. Southern California arcade store Arcade Shock sold buttons, levers, complete joysticks, and also their specialty of selling game carts for SNK's classic Neo-Geo Multi Video System. Arcade stick company Eightarc was there selling their own sticks that are unique for having sticks compatible on both Xbox 360 and PlayStation 3. They gave me some free buttons after emailing them a while back. There was also the headquarters booth where Kineda and his staff were working hard on the event as well as handling the event-long raffle where participants can win arcade sticks or other related products. Streaming group SRKLive, part of fighting game community site Shoryuken, was there to handle streaming duties along with IPLAYWINNER. SRKLive took care of Mortal Kombat and Soulcalibur V while IPLAYWINNER arranged the rest of the game on the big Jack Adams Hall stage.
When I saw what pool I was in for SFXT at 11 a.m., I had to wait until 8 p.m. and it was nervousing. I killed time by meeting up with people that I have only seen through a computer screen on streams. The Bay Area KOF players were friendly dudes that just want to have fun with what they love to play. I met with Neidel "Haunts" Crisan of IPLAYWINNER a while back but not the rest of the staff. It was awesome to communicate about fighting games with these people that I would consider friends. I also gained some acquaintances who are also welcoming folks. I also looked around the university to see their own arcade that had a dozen or so people playing in multiple games like Capcom vs. SNK 2, Street Fighter III: 3rd Strike, and Tekken 6: Bloodline Rebellion.
During my wait, I tried out Virtua Fighter for the first time and practiced it before the tournament. Final Showdown is the latest version of Virtua Fighter 5 with new characters, stages and statistic tweaks for competitive play. Unlike Street Fighter being 2D and having high and low attacks only, Virtua Fighter utilizes a 3D plane like Namco's Tekken series and features the addition of mid attacks. The three attack positions requires players to guard properly or else face receiving high damaging combos. Seeing through streams looked good but watching the smooth action in person was phenomenal. I was able to adapt to the system easily and get into the action immediately. I was trying out some characters until I found two that were very comfortable to me. With only little time before the free tournament began, I grinded my skills and tried to find the most useful moves while playing against others who had prior experience with Virtua Fighter. When the tournament began, I had the tournament nerves so I was making bad mistakes on my first match causing me to go into losers bracket. I was feeling pessimistic as I awaited my next match but I then thought of taking it seriously and do my best whatever it takes. I took advantage of my opponents' habits and capitalized on their mistakes to get me victories. Fortunately, I was able to progress far and even attempt to qualify for top eight. I lost that chance against a much better player, eliminating me from the tournament. Regardless, I still did my best and was absolutely grateful for placing farther than expected. The top eight players got to win a shirt with first place getting a card that can be used for arcades in Japan and was invited to a special event in Los Angeles during the summer. I didn't mind not getting anything but was happy that I got close to top eight and was having fun doing it.
As the first day was nearing its conclusion, my Street Fighter X Tekken pools started and saw some power players on my bracket. One of them was Josh "Nerdjosh" Jodin from New York City. Nerdjosh won the SFXT reality show Cross Assault and acquired $25,000 from the wins. I had so much trouble fighting my first match against opponent Mr. Igloo, who was a mutual acquaintance since we both love the older fighting games. That defeat put me at the pool's losers bracket and forced me to fight Nerdjosh who also lost his previous match. Before playing my next match I was extremely stressed out over how crowded the pools stations were since you couldn't even move an inch. Add how hot the venue was and it made the preparation more dreadful that it was. I extremely had the nerves since Nerdjosh has the experience in competing in many tournaments for years while I am still new to major competitive play. Regardless, I did my best to fight against his characters. Luckily I got a round off of him after attempting to pressure him but he would ultimately eliminate me from the tournament since he was able to adapt to me easily. I was disappointed since I didn't even get a full win but dealt with it. I talked to Nerdjosh about the match and seeing what can I do to help my game. He is a very friendly dude and I appreciated my time talking to him.
I then just enjoyed the rest of the day talking to folks and watching the main stage. The day was full of amazement and disappointment but day two was a beast of its own.
Game Blog 1: Reality
by Carlo Dela Cruz
March
There are many different types of reality shows nowadays and video games have been a recent venture in trying to show off the competitive nature between players. While there are legitimate shows out there, the more popular ones don't really present the true competitive feeling in video games.
While there are games that have players going through a predetermined storyline, there are others where players participate in multiplayer adversarial competition called "E-Sports." This competitive form of video gaming evokes clashes similar to those in traditional sports but instead of a basketball or a tennis racket for example, players can possess a virtual weapon, play as a martial arts master, or being a commander of a military force.
Recently, reality shows surfaced where they attempt to present competitive gaming to a wider audience and also serve as a marketing tool. While the shows do promote the video games, the formats of the shows seem to cater more towards what you might see on Survivor or The Amazing Race.
"WCG Ultimate Gamer" by E-Sports tournament series World Cyber Games was one of the notable shows that appeared on television where it grabbed various gamers who were known in being skilled in a specific game or genre. Each episode has the contestants practice a certain game while also enduring real life challenges related or face elimination.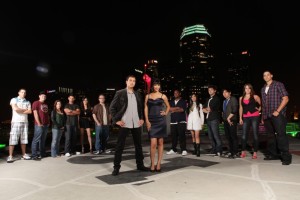 One of the biggest problems that Ultimate Gamer had was that the contestants had little time learning the ins and outs of the games. When they began actually playing, their performances were so lackluster to the point where it's not entertaining or insightful for those who want to learn.
Sony also had its own reality show with "The Tester" officially available to watch on YouTube and the PlayStation Network. It also had gamers participate in physical challenges but was based on skills related to video game quality assurance testers such as attention to detail. The winner snagged a testing job with Sony Computer Entertainment America. That show, however focused on physical challenges and not on the games.
Noticeably  in both reality shows deviation outside of actual video games. The physical challenges are more of a distraction rather than an entertaining extension to the show. Those reasons don't however make video games and reality programming a bad match.
To help promote fighting game "Street Fighter X Tekken," developer and publisher Capcom introduced a reality show called "Cross Assault" where competitors are observed live on a video gaming streaming website TwitchTV from morning to night how they are performing at the game.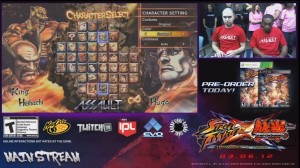 What makes Cross Assault different from the more mainstream shows mentioned is that it's all about fighting game players learning the game and testing their skills against their opponents. While they learn how to play, we also get an insight on the game's mechanics. The focus on being just the game with legitimate players trying it out is evidence that this is what a video gaming reality show should represent.
If there are any new shows that center on gaming, producers should look at what Cross Assault is doing and make their own interesting creation. Applying common competitive reality show traits like physical challenges will not garner more viewers but having a focus on the game(s) will.
While the reality show format can promote competition and help promote a game, there has been a recent trend on the internet. The next blog post will talk about how competitive gaming and live streaming help shape each other to their current state today and what can be happen in the future.