Students for a Sustainable Future work to ban bottled water on campus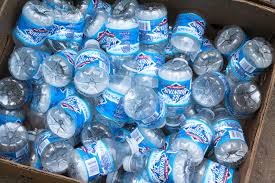 The Students for a Sustainable Future Club gathered their tools on April 14 and reached out to students about the importance of using tap water over bottled water.
The outreach event took place in the quad during the afternoon and had a display showing how many plastic water bottles an average American uses per year. With the help of the displays and informative flyers, the club gathered signatures from students who pledged to not use water bottles.
"Honestly taking a pledge can really motivate some people to really stop using whatever it might be," said Jaime Gonzalez, 24, environmental studies and sustainability major. "Even if these signatures don't go towards anything, it can really help motivate habits."
Members have been working hard to not only help other students change habits to be more environmentally friendly, but to also make Cosumnes River College a more sustainable college.
According to a study done by University of Oregon, the average American uses 168 plastic water bottles per year. The SSF club has joined with the Take Back the Tap campaign to change that.
Take Back the Tap is a nationwide campaign started by the non-profit Food and Water Watch organization. The campaign has been able to reach colleges like CRC and join together with like-minded students to reach a bigger audience.
"Being able to spread the information on campus shows that we are working for sustainability even though the campus tries as much as it can to regulate what we do," said Rosalia Adams, 19, biology major.
The campaign Take Back the Tap is just one approach the club is taking to promote better habits. With the collaboration of the CRC Foundation, the club hopes to create a lasting change.
"We would like to get the use of one-time bottle use banned from campus, that's the number one goal," Gonzalez said.
Besides banning the use of one-time bottles, the club hopes to provide access to clean and free municipal tap water for students by making sure drink fountains are working as well as upgrading them to retrofit hydration stations.
Though the SSF club have made a considerable difference with promoting sustainability on campus, the club still has issues with enacting major changes because of the lack of responses from faculty and administration.
"We struggle so much with getting our voices heard," said Cesar Aguirre, 28, environmental studies and sustainability major.