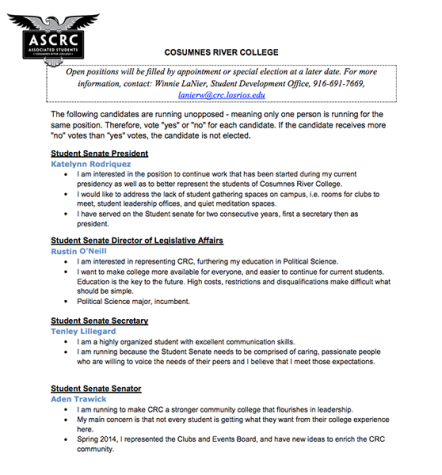 Courtesy photo
Carlos Arreola, Guest writer
Cosumnes River College student elections are taking place April 14 and 15 and the Associated Students of Cosumnes River College is encouraging all current students to cast their votes. Voting is open from 7 a.m. to 11:30 p.m. on both days. Students can cast their votes simply by logging onto their eservices account and clicking on the "Elections... Read More »
April 13, 2015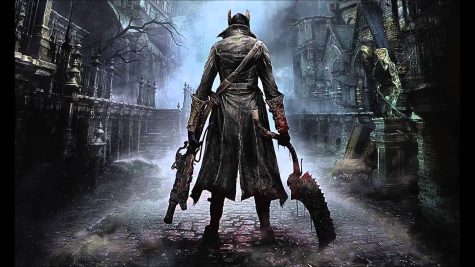 Courtesy Photo
Tim Taylor, Staff Writer
Very few game titles out there can challenge a player or push them to their mental limits and reward them in such a satisfying way the way "Bloodborne" can.  This new Playstation 4 role playing game from developer From Software will feel familiar to some "Dark Souls" fans but rest assured, "Bloodborne" is a welcomed breath of fresh air... Read More »
April 18, 2015
Hawk talk: What are you doing for spring break?
Heather Kemp, Staff Writer
Higher One, the bank that Cosumnes River College and many other colleges in the United States use to give students their financial aid award, is nothing but a big hassle. There is nothing worse than when a company tries to say they care about college students and helping them make the most of their money when they actually do the complete opposite. Sure,... Read More »
April 18, 2015 • 0 comments
Email Updates
Enter your email address below to receive our daily email updates.
Recent Sports Scores
Tuesday, April 14

Baseball

CRC 12 - Sacramento City College 8

Tuesday, April 14

Softball

CRC 9 - American River College 3

Saturday, April 11

Baseball

CRC 12 - Diablo Valley 4

Thursday, April 9

Baseball

CRC 5 - Diablo Valley 6

Thursday, April 9

Softball

CRC 3 - Sacramento City College 2
Jasmine Teng, Staff Writer
The Hawks study center is just one of the helpful features Cosumnes Rivers College provides to  student athletes. Located on the first floor of the CAC building, the study center offers study services to student athletes and the general student population throughout the academic year. Although... Read More »
April 16, 2015
Current Issue - Issue Four, Spring 2015