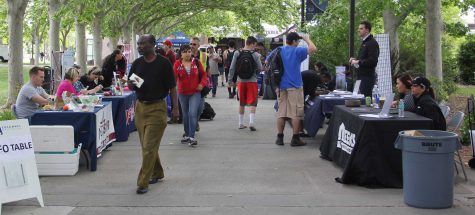 Eb Arreola
Erica Trujillo, Staff Writer
The campus partook in its largest career fair this past week. The event was from 10 a.m. to 1:30 p.m. in the quad on April 27. Work in the radio industry, join PepsiCo, be a personal trainer, or work on the register at Chick- Fil- A. These were some of the jobs presented in April's career fair on campus. There was an even greater amount of c... Read More »
May 5, 2016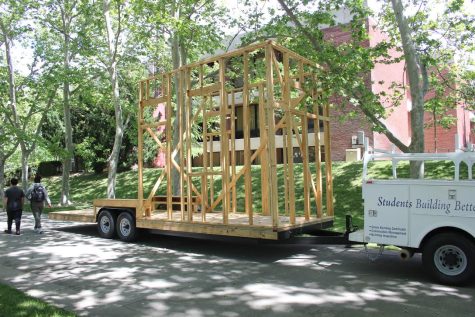 Tyler Santana
Tyler Santana, Editor In Chief
Under 300 square feet on average, tiny houses have made a big impact on the idea of living sustainably. Now students can see first hand what a tiny house is like at the Tiny House Competition on Oct. 15. Cosumnes River College will be hosting the competition put on by SMUD that features 10 colleges competing to build the best tiny house under 400 square... Read More »
April 21, 2016
Hawk talk: Gender-less Bathrooms
EJ Aguayo, Staff
Post Malone said it best: "You gon' love me when I'm gone." Early Thursday morning, the world lost an iconic artist. Singer Prince was found dead in his Minneapolis home due to unknown causes, according to CNN. We saw Prince as a musical innovator, a no-holds-barred trendsetter and visionary. Also, his music sold quite well. According to Billbo... Read More »
April 23, 2016 • 0 comments
Email Updates
Enter your email address below to receive our daily email updates.
EJ Aguayo, Editor
In a battle for first place in the Big 8 Conference, the Hawks baseball team fell short losing 5-3 against Santa Rosa on Saturday. Hawks' pitcher Matt Richardson gave up two runs at the top of the first inning that would reflect a series of team missteps throughout the game. Not dwelling on any singl... Read More »
April 26, 2016
Current Issue -Issue 5 Spring 2016
Facebook Connection
Unable to fetch the feed
Error :
A feed could not be found at http://www.facebook.com/feeds/page.php?id=68977265052&format=rss20. A feed with an invalid mime type may fall victim to this error, or SimplePie was unable to auto-discover it.. Use force_feed() if you are certain this URL is a real feed.
RSS Feed currently unavailable.