Missy Amaya, Staff
The Los Rios Community College District has reaffirmed its commitment to diversity by signing a new resolution in support of undocumented students and employees. On Jan. 11 the LRCCD Board of Trustees unanimously passed Resolution  2017-02, which takes a stance in support of students and employees covered by the Deferred Action for Childhood Ar... Read More »
Feb 9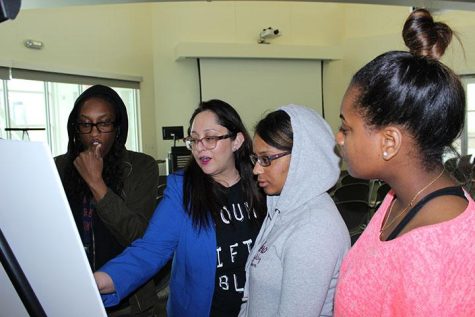 Angela Ramos
Julie Wallinger, Editor
An interactive talk kicked off Black History Month at Cosumnes River College. Raquel Simental, director of external relations and communications for Education Trust West, hosted the first of two 'Black Minds Matter and Data Equity Walk' events on Feb. 15. There was a short introduction where Simental explained the statistics that were printed... Read More »
Feb 22
Missy Amaya, Staff
The celebration of Black History Month is a time of the year where we learn and are reminded of the great accomplishments and hardships that historical and present day African American citizens have had to experience during their fight for equal rights. It is an important tradition, designed to include the African American narrative within our history an... Read More »
Feb 20 • No Comments
Email Updates
Enter your email address below to receive our daily email updates.
Recent Stories
February 22, 2017 3:36 pm
Jared Lee, Copy Editor
The men's basketball team saw its season end in a spectacularly close game. The Cosumnes River College Hawks pushed their final game of the season into overtime, but fell 92-89 to the San Joaquin Delta Mustangs. Head coach Jonathan James said going into the game he felt good about his team. "My s... Read More »
Feb 19
Current Issue - Issue 1 Spring 2017
Facebook Connection
Unable to fetch the feed
Error :
A feed could not be found at http://www.facebook.com/feeds/page.php?id=68977265052&format=rss20. A feed with an invalid mime type may fall victim to this error, or SimplePie was unable to auto-discover it.. Use force_feed() if you are certain this URL is a real feed.
RSS Feed currently unavailable.