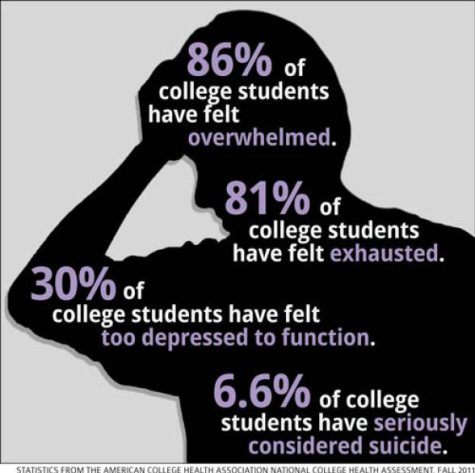 Courtesy
Andrew Flores, Staff
With the semester coming to an end and finals soon approaching, stress levels begin to rise as Cosumnes River College students prepare to conquer their academic courses. Though stress and anxiety are nothing new around finals week, students' reasons for being under these grueling circumstances and how they manage to deal with them vary. "During midte... Read More »
Dec 5
Abigail Babineau, Staff
Three quarters of a century ago,  a deadly attack was carried out on the shores of Hawaii. This tragedy washed up on Hawaii like an unexpected Tsunami.  Pearl Harbor was struck in devastation, explosions, and blood. Years later in 2016, some think that the nation does not reflect and honor that day as true as it should be. On Dec. 7, 1941, the Un... Read More »
Dec 10
The Color Wild: A further look into a Sacramento band
Andrew Maestas, Staff
Almost everyone has a holiday memory that they hold dear, whether it's the first time unwrapping a present from Santa Claus, or the time shared in the warmth surrounded by good food and family. Those are memories we treasure in our heart if we are fortunate enough to have them. But many people are not so lucky. Instead, they are spending their holiday... Read More »
Nov 14 • No Comments
Email Updates
Enter your email address below to receive our daily email updates.
Recent Stories
December 10, 2016 1:11 pm
Matt Johnson, Editor
For sophomore athletes at Cosumnes River College, the last season as a member of the Hawks can mean a lot of things. From a chance to step into a leadership role to being a part of a program for two years, it provides a plethora of memories and experiences for players. Now as they look back on... Read More »
Dec 1
Current Issue -Issue 6 Fall 2016
Facebook Connection
Unable to fetch the feed
Error :
A feed could not be found at http://www.facebook.com/feeds/page.php?id=68977265052&format=rss20. A feed with an invalid mime type may fall victim to this error, or SimplePie was unable to auto-discover it.. Use force_feed() if you are certain this URL is a real feed.
RSS Feed currently unavailable.