Cheap Eats: Best burgers for your buck
Craving a burger that will tame your taste buds, but stuck with a budget that leaves you craving more? Here are some local burger joints that will satisfy your hunger without breaking the bank.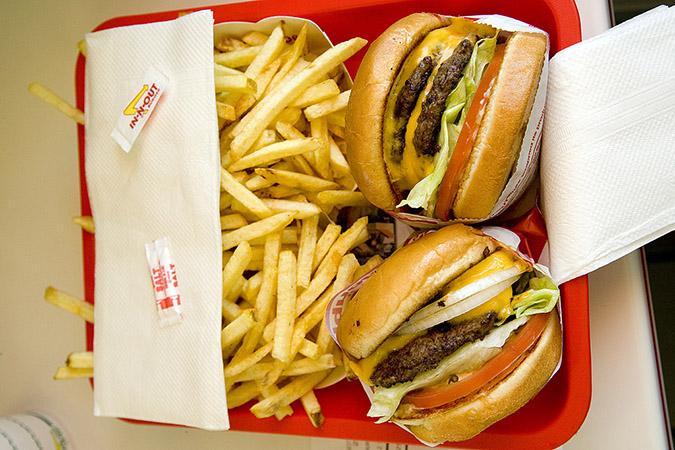 1. In-n-Out – Location: 9188 E Stockton Blvd. Elk Grove, CA 95624
Taking the number one spot is a west coast favorite.  In-n-Out offers mouthwatering burgers that are sure to make your aching tummy happy.  From the fresh cut fries to the mouth-watering "animal style" option, this burger is simply delicious.  My favorite part is that it offers a quality burger and fries without emptying my wallet.  Even though the lines are usually long, the food is totally worth the wait.
Price for a hamburger, fry and regular fountain drink: $4.85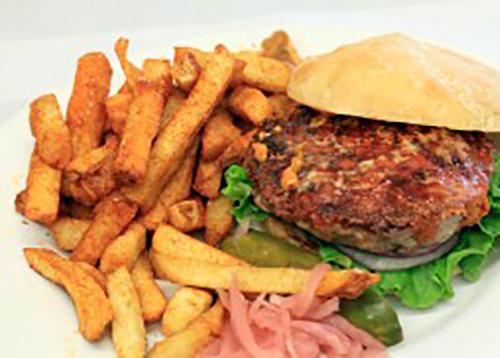 2. Dad's Kitchen – Location: 2968 Freeport Blvd. Sacramento, CA 95818
After seeing this burger on Guy Fieri's  Food Network show "Diners, Drive-ins, and Dives," there was no question I had to check it out.  If you are a bacon lover like me, Dad's Kitchen is a paradise with a "bacon crusted" patty on the majority of their burgers.  The burger is first layered with the bacon "crust," followed by cheese and the burger patty itself.  So when you take a bite of this burger, not only do you get that savory bacon flavor, but you are surprised with a creamy pocket of cheese.  Although it was a little more expensive, you really get what you pay for.
Price for a hamburger, regular fry and fountain drink: $12.50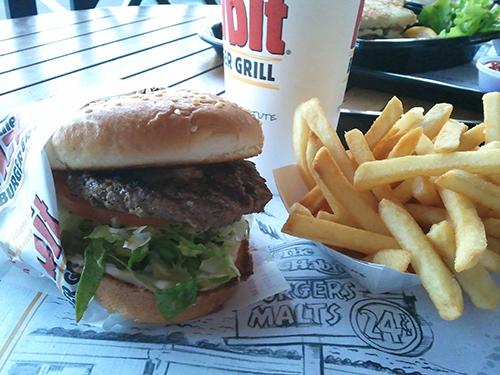 3. The Habit Burger Grill – Location: 7400 Laguna Blvd. Elk Grove, CA 95758
Walking into The Habit Burger Grill, my first thought was that it smelled amazing.  The burger was delicious and totally customizable as far as what free toppings you wanted.  For a few cents more you could add toppings such as bacon and avocado to your burger as well.  If a burger isn't your thing, you can also order equally delicious salads and sandwiches from the menu.
 Price for a hamburger, fry and fountain drink: $6.20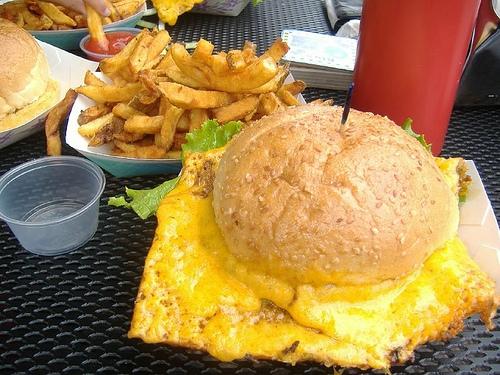 4. Squeeze Inn – Location: 5301 Power Inn Road Sacramento, CA 95820
Another feature on Guy Fieri's Food Network show "Diners, Drive-ins and Dives," Squeeze Inn serves monstrous burgers that come dressed in their best, twirling to the table in a giant cheese skirt with whatever other fixings you choose.  Squeeze Inn has a variety of burgers for all types of foodies, even offering a veggie burger for the herbivores in your group, as well as other delicious options including hot dogs, corn dogs, tacos and a variety of sandwiches.  The burger was delicious and cooked perfectly, but for a first timer like myself, the cheese was a little overwhelming.
Price for a hamburger, small fry and regular fountain drink:  $11.00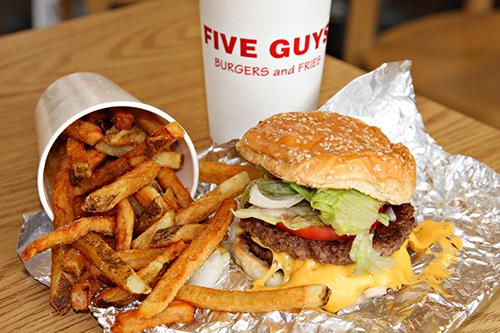 5. Five Guys Burgers – Location: 9527 Laguna Springs Drive Elk Grove, CA 95624
Five Guys Burgers may have a similar style to In-n-Out, but they have a whole different take on their burger.  With topping options like grilled mushrooms, jalapeño peppers and condiments like A-1 Steak Sauce and hot sauce, the combinations of what you can put on your burger seems endless.  While the burger was good and there was a variety of ways to customize it, I felt like I paid for more than what I actually got.
Price for a hamburger, small fry and regular fountain drink: $10.47
Leave a Comment