Students compete in CRC's 10th annual Integration Bee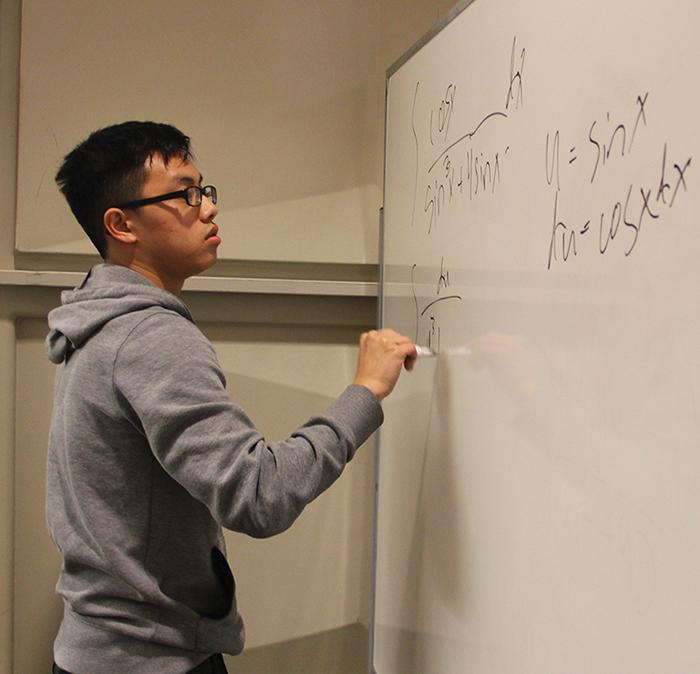 Cosumnes River College students who enrolled in Calculus I or higher competed in the 10th annual Integration Bee to test their math skills with one another in LRC 105 on April 4.
The event was hosted by CRC's mathematics department. There were 100 people who attended, and 41 students signed up to compete ranging in age from 17 to 35.
"It has grown over the years. The first year I took over we had 20-25 contestants. This year we have 41, and it's still pretty good, so yeah, it has grown," said Roy Simpson, a mathematics professor at CRC.
The Integration Bee started when a student in the campus math club realized that a college on the east coast had this competition. Inspired by the idea, the math professors came together to sponsor a math competition, and the event has been quite successful, Simpson said.
"We want to encourage academic excellence, and create a positive environment," said Min Zeng, a CRC math professor.
The room was full of positive vibes, as contestants proceeded to further levels. Losing participants shook the others hand as they congratulated the winner.
"I signed up because I've always liked math, always found it fun. I am unique among my friends, I actually like taking math tests," said Alejandro Bupara, a 19-year-old Intersegmental General Education Transfer Curriculum major.
The first round required all 41 participants to solve four problems. In the second round, 27 students were eliminated and the top 14 were left to compete.
The top 14 contestants were Alexandro Arguello, Hai Van Duong, Xuan Ho, Khoi Hoang, Joe Kuang, Brian Leung, Yi Lor, Mesfin Mohammed, Duyen Nguyen, Nataliya Polichshuk, Earl Ramirez, Ai Vu, Hung Vu and Thien Nguyen.
Contestant Brian Leung resigned round two. "I knew I couldn't solve the problem in time," Leung said.
Of the 14 contestants, the top four were allowed to compete in the final round.
Fourth place winners, Hoang and Mohammed, both won a prize of $100. Third place winner, Kuang, won a TI-inspire CX calculator and $100. Second place winner Hung Vu, won a TI-inspire CX calculator and $200.
The winner for the 10th annual Integration Bee was Duyen Nguyen, an 18-year-old economics major. She was the only one to solve all of the problems correctly in the last round. Nguyen won an iPad and $300.
"I feel very happy that I won, I never thought I could win for first place. It was all thanks to professor Min Zeng and professor Simpson,"said Nguyen.
The top five finalists were not the only ones to receive prizes. Raffle tickets were given to both the audience and contestants. A total of 29 gift cards were given away from Jamba Juice, Starbucks, Subway or Target to the raffle winners.
"We love our students. Honestly, there are not many ways we can give back to our students. This is our way of granting scholarships to many great students," Simpson said.