New swim team participates in their first Big 8 Invitational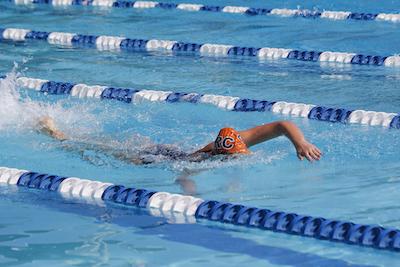 As part of their inaugural season, the Cosumnes River College women's swim team competed in the Big 8 Invitational Swim Meet, which was held at American River College on March 13.
During the four and a half hour meet, the team got a chance to showcase some of the improvements they have been working towards. While they may not have taken any top spots in the competition, the team continued to set up the foundations for the seasons to come.
"The events went really well," said head coach Liz Abrams. "For a lot of these girls, each meet is a new experience. Half of them swam some best times in their events, [and] they're doing well."
As a team, Abrams said their goal was to tighten up their technique and to shave seconds off their times.  That showed in events like the 200 meter freestyle relay in which the team dropped two seconds off their time.
"Times and everything are improving. We've been getting our best records [and] we work really hard, but we have fun out here," said freshman swimmer Seanna Estes.
While the team as a whole dropped seconds in the relay, their hard work paid off as they individually improved their times.
"In our 200 freestyle event, Seanna dropped 13 seconds and Katarina [Perez] dropped a second as well," Abrams said.
The team is showing improvement, but they are only at the beginning of their journey with this time being a pivotal point in their season, said assistant coach Andrew Sieger. Hard work and consistency is key for them, he said.
"The mentality of technique and the idea that they need to put in that work, especially right now, we are eight weeks into our season, physiologically they are all hitting walls now they really have to start upping their training and staying committed," Sieger said.
Freshman swimmer Megan Lapomardo said she is committed to training.
"Overall, it was a pretty good meet, but I didn't do so well as I usually do in other meets, but I still tried my hardest today," Lapomardo said. "I am gonna take next weeks practice and work as hard as I can and swim harder and faster than I did before in practice and it will totally show in the next week."
Leave a Comment