Text2Quit: How text messaging can help kick the habit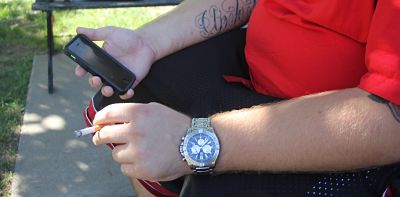 Smoking tobacco is one of the leading addictions in today's world and there have been a variety of options that individuals can choose from to aid them in trying to quit the habit.
Some options for smokers who are trying to quit include: nicotine patches, nicotine gum, hotlines, family and friend support and now a new development is under way where quitting is literally in the palm of your hands.
Smokers now have the option to use text messages as a way to help them fight the addiction called Text2Quit.
Any person who is willing to kick the habit can use Text2Quit, a publicly available Web-based program that sends personalized texts and emails to smokers to help them cut down as they approach a target quit date, according to an article from National Public Radio. According to the same article, "In moments of weakness, people could text keywords like 'CRAVE' or 'STATS' to receive tips about fighting cravings, an update on their progress or even a trivia game they could play to distract them."
Cosumnes River College health Professor Jon Adams is an ex-smoker of over a decade . He said he tried the patch, quitting cold turkey and support groups, but none were successful.
"The idea of distraction seems viable but the truth is nicotine addiction is not just physical, but also mentally addictive," Adams said. "I think any type of program to help an addict kick the nicotine habit is worthwhile to attempt. I use the term addict because the Surgeon General stated that nicotine is more addictive than cocaine."
According to NPR, Lorien Abroms a professor at George Washington University's School of Public Health in Washington, D.C., and the creator of the program got the idea about five years ago, when there weren't other options available for receiving counseling or medical advice via text. So she started developing a program herself.
Since Text2Quit was licensed and launched in 2012, about 120,000 people have enrolled.
Oscar Ramirez, a 20-year-old graphic design major said he doesn't think the program will help smokers.
"I smoke occasionally and in theory it's a good idea, but I don't really see how getting a text message will truly help you quit," Ramirez said. "Honestly, I think to quit you have to have support from people close to you, not an app."
Michael Cuddy, a 22-year-old computer science major also said he doesn't think that the program will help.
"Well it sounds good but for it to actually be used beyond the first use would require the person to already have enough willpower to quit on their own," Cuddy said. "Without something physically barring the person or something mentally driving the person, the program would soundly fail."
Getting counseling through text messages doubled the odds of kicking the habit compared with those who relied on Internet searches and basic information brochures, according to a study published in the American Journal of Preventive Medicine.
According to NPR, "it's one of the few long-term randomized trials looking at the effectiveness of texting as a method to help people quit smoking."
"Never quit trying," Adams said. "My advice [to those trying to quit today], do not start. Do not become an addict to nicotine. Find better stress coping techniques. I always suggest they take a deep breath and say the alphabet. Every year you smoke check to see how far along the alphabet to go."
Leave a Comment